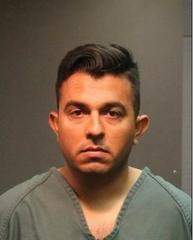 Omar Rojas, 28, a high school volleyball coach and security guard for the Santa Ana Unified School District's police force pleaded guilty to having sex with four girls and has been sentenced to only a year in jail, according to the O.C. Register.
Rojas, a Santa Ana resident, pleaded guilty back on Friday, June 7, to having sex with four teen girls. Apparently he worked out a plea deal with the O.C.D.A. that included waiving him a year's worth of credit behind bars since he was arrested last August.
Rojas was originally arrested for having sex with three teenage girls on his volleyball team then a fourth victim was added to charges later.
Rojas will have to register as a sex offender for the rest of his life.
The victims included two 17-year-old girls and a 15-year-old girl who were on the volleyball team at Century High School in 2015, according to the SAPD.
Rojas was so brazen that he would have the victims excused from class so he could meet up with them to have sex on campus during school.
At the time of the crimes Rojas was not a school safety officer.
Rojas worked as a District Safety Officer at Sierra Preparatory Academy, according to the Santa Ana Unified School District.