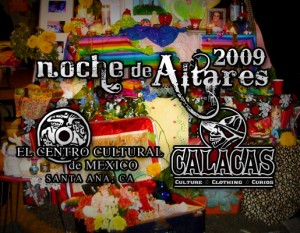 UPDATE: Click here for pictures and a recap of the 2011 Noche de Altares (Day of the Dead/Dia de los Muertos).
Click here to read about the 2010 8th Annual Noche de Altares.
El Centro Cultural de Mexico & Calacas Inc. proudly present The 7th Annual Día de los Muertos Celebration will be held on Saturday, November 7th 2009, from 2pm to 10pm, at the  Fiesta Marketplace, which is located at the corner of Bush and 3rd., in downtown Santa Ana.  This is a FREE event!
For the 7th year in a row, Centro Cultural de México is organizing Noche de Altares (A Night of Altars). This year Centro is proud to present this free event in partnership with Calacas Inc., a Santa Ana business that promotes art and culture through products made by indigenous people living in México and local artisans living in Southern California.
Noche de Altares is a community-based event celebrating Día de los Muertos (Day of the Dead), one of México's oldest, indigenous festivals. Organized by volunteers, the purpose of the celebration is to honor the ancient traditions of the festival and bring community members together through art, culture, and compassion. Continue reading→