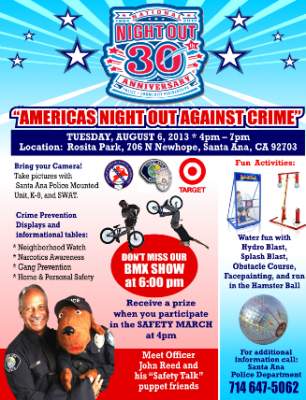 SAPD Advisory: Police Department "NATIONAL NIGHT OUT" Tuesday, August 6, 4:00 p.m. – 7:00 pm Rosita Park – 706 N Newhope (Newhope/Hazard),
Santa Ana Police Department  Presents: NATIONAL NIGHT OUT
National Night Out is an event designed to heighten crime and drug prevention and awareness. It is a national event focusing on neighborhood spirit and police/community partnerships with an emphasis: "America's Night Out Against Crime"

When: Tuesday, August 6, 2013 4:00 p.m. – 7:00 pm
Where:Rosita Park – 706 N Newhope (Newhope/Hazard), Santa Ana
Highlights of the Event:
•Crime Prevention Displays and informational tables: Neighborhood Watch, Nacotics Awareness, Gang Prevention and Home & Personal Safety
•Fun Activities featuring water games, obstacle course, Hampster Ball
•FREE PRIZE GIVEAWAY sponsored by the Santa Ana TARGET Stores
•Meet Officer John Reed and his puppet friend "Shortstuff"
•Take pictures withSanta Ana Police Mounted Unit, K9 & SWAT
•Available to the Media – GOOD VISUALS:
•"Crime Free"Safety Walk- No to drugs, Not to gangs, No to people that drive fast: featuring the youth of the community starting promptly at 4pm
•Children & families meeting with police officers
•There will also be interview opportunities with police officers and members of the Westend C.O.P. Association, who are co-hosting this event.
###