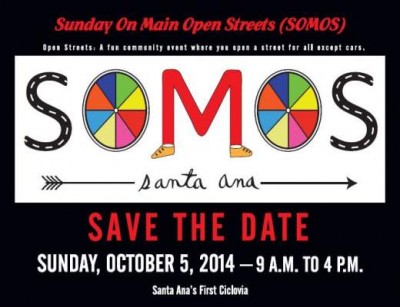 City of Santa Ana

Community Alert: Change of Date & Longer, Improved Route Announced for "SOMOS" Santa Ana's First Ciclovia

SANTA ANA, CA – The City of Santa Ana is proud to host Orange County's first ever Ciclovia – an open streets event where the streets will be closed to cars and opened to bikers, walkers and runners. SOMOS or "Sunday On Main Open Streets" is scheduled for Sunday, October 5, 2014 from 9 am to 4 pm.

"Hosting the County's first ever ciclovia is a great way to promote health and to get our community excited about being active. It's another step in making Santa Ana one of the safest and friendliest bike communities in the County while promoting economic development at the same time," said Councilwoman Michele Martinez.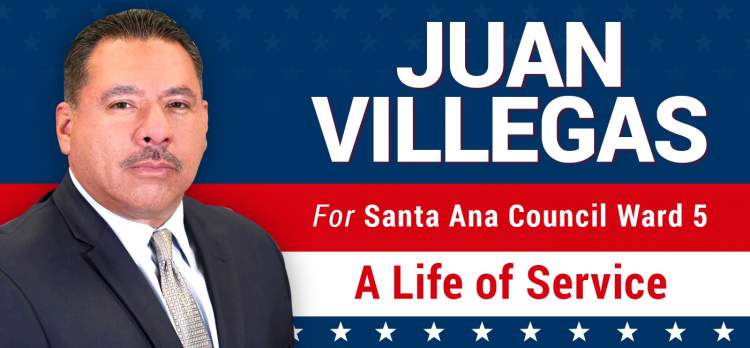 The 3.1 mile route in Santa Ana includes Orange County's hottest downtown, as named in Orange Coast magazine, the Historic Old City Hall just south of Third Street and the Historic South Main Business District. This new route connects Historic south Main Street with the City's vibrant downtown. Entertainment and activities such as 15 minute sessions of yoga, zumba, and various children events will also be featured throughout the route.
"SOMOS is a great way to introduce new customers to the City's vibrant downtown as well as all of the restaurants and businesses along the Historic South Main Corridor," added Councilman Vincent Sarmiento.
Traffic planning has begun and will include outreach and solicitation of feedback from neighborhoods, businesses, schools, and churches along the route. Santa Ana Traffic Engineering and the Police Department will work to minimize disruption to neighboring businesses and neighborhoods while keeping safety as its top priority.
Questions regarding the event or to participate as a featured entertainer/vendor throughout the route, please contact Executive Director of Parks, Recreation and Community Services Agency, Gerardo Mouet at (714) 486-4732 or email gmouet@santa-ana.org or visit www.vibrantsantaana.org/somos.
###