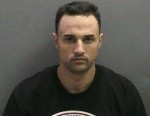 Aleksandar Apostolovic, 29, of Santa Ana, a convicted felon who fled from police in an SUV and then crashed into another vehicle, killing a 12-year-old Westminster girl, has been sentenced to 23 years to life in prison, according to the O.C. Register.
Apostolovic's accepted charges of second-degree murder and evading a police officer causing death in his plea deal on June 30.
Apostolovic fled from Westminster police when they tried to arrest him on an outstanding warrant, in April of 2014. He ended up crashing a Chevy Suburban, on purpose, into the front of a police car, then he sped off.
Apostolovic ended up crashing into two more vehicles including a 7th-grader, Vivian Nguyen – her mother and her brother were also hurt.
Apostolovic was captured about six hours after he ran away.
Apostolovic has multiple prior felony convictions for charges including possession of firearm, burglary and theft, according to court records.