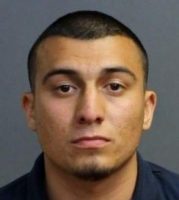 On Sunday, June 18, 2017, at about 2:20 a.m., Costa Mesa police officers were dispatched to West 19th Street and Harbor Boulevard regarding a vehicle versus pedestrian hit and run collision.
Officers located the victim in the street with moderate injuries. A witness followed the suspect vehicle to Dyer Road and the California State Route 55 and called 911.
The CHP arrived and stopped the vehicle at a 7-11 store nearby. The driver, Andrew Jacob Luevano, 25, Santa Ana, was arrested for felony DUI and hit and run causing injury.
The victim was transported to a nearby hospital and is in stable condition with lacerations and scrapes.