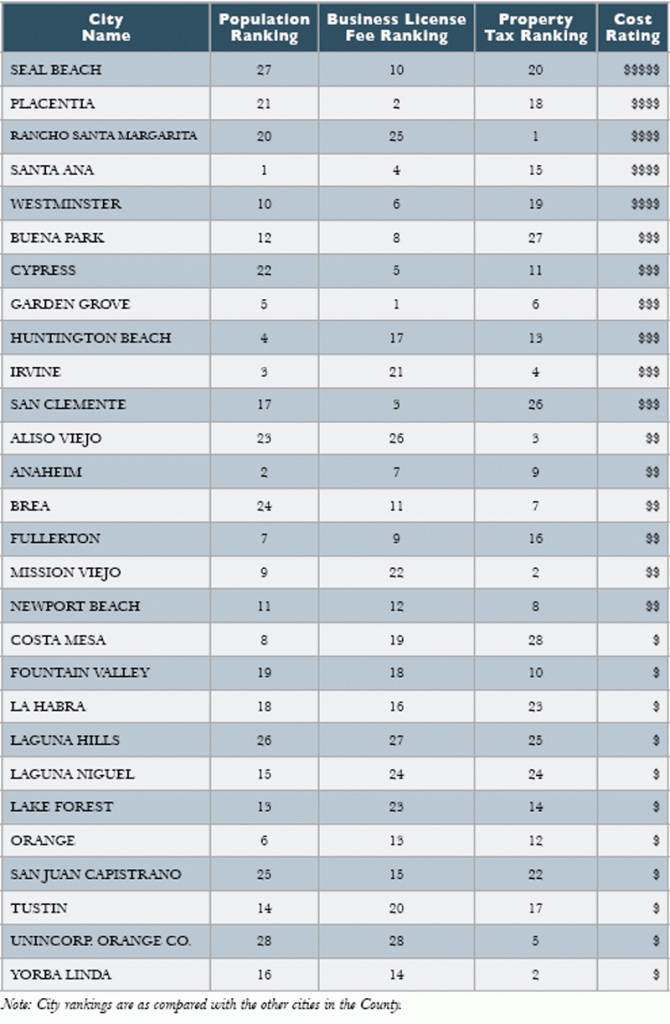 In 2008, Santa Ana was found to be the third most expensive Orange County cities to do business in, "according to the 14th annual Cost of Doing Business Survey from the Rose Institute of State & Local Government at Claremont McKenna College and Kosmont Companies in Los Angeles," as published in the O.C. Register.
In 2009, the same study found that Santa Ana was the fourth most expensive city in Orange County, to do business in.  Click here to read that article in the O.C. Register.
Santa Ana also has some of the highest property taxes in the O.C. due to the passage of numerous SAUSD and Rancho Santiago Community College District bond measures.  A large chunk of the college bond was used to build a training academy for O.C. Sheriffs that we just didn't need – our County is ringed by similar academies that are easily within thirty minutes of Orange County.
Isn't it interesting that some of the BEST cities in Orange County charge the LEAST for business licenses?  Irvine, Tustin, Yorba Linda and Costa Mesa all rank amongst the cities with the LOWEST business costs.  Even Newport Beach has a much lower cost than Santa Ana. 
Drive around Santa Ana and you will see the result of their high business costs.  There are empty storefronts everywhere – and "going out of business" signs outnumber "grand opening" signs by a huge margin.
The City of Santa Ana is broke.  Our civic debt is about forty million dollars.  One way to start fixing this problem is to take a look at the cost of doing business in our city and consider lowering our business license fees. 
We also make it very difficult for new businesses to promote themselves.  When the new Geisha House restaurant opened up at the CityPlace shopping center, they were cited by City of Santa Ana inspectors because of their large pictorial murals, in their windows.  Isn't that ridiculous?  They were done in good taste, leaving me to ponder why a business has to come begging to the city for every little thing they do.
And what else have we done in Santa Ana to discourage new businesses?  When Buffalo Wild Wings wanted to open a new location in town, off of 17th, a group of residents, led by local business owner Mike Tardiff, sued them!  They were supposed to anchor a new collection of restaurants, near Tustin Ave., next to Orchard Supply Hardware.  They ended up deciding to go elsewhere.  That food court is now seriously hurting.
Tardiff is now in charge of the business development committee for a community organization called "Sacred," that is chaired by local attorney Alfredo Amezcua, who is running for Mayor of Santa Ana against incumbent Miguel Pulido.
And our City Council voted against allowing certain big retailers to locate in town, in an attempt to mollify their union allies.  The result?  We lost a brand new Best Buy that might have opened up at the CityPlace.  Instead, it opened up on Tustin Ave., in Orange.  I was just there yesterday.  They have a music center too, that competes directly with Fountain Valley's Guitar Center.  Who knows how many jobs and tax revenue we lost in that transaction!
And when Curacao was interested in opening up in Santa Ana, our city leaders said, no gracias, as this is a non-union superstore.  They went to Fountain Valley instead.
Isn't it time for Santa Ana Mayor Miguel Pulido to stop the nonsense and help make Santa Ana a place that businesses will want to locate in?  He is in the fight of his life right now, with the aforementioned Amezcua running against him.  What a great opportunity for Pulido to convene a meeting with our business community to announce a new, business-friendly approach at City Hall.
Here is what you can do: Click here to contact the Santa Ana City Council.  You can contact City Manager Dave Ream's assistant, Mark Lawrence, at MLawrence@santa-ana.org.