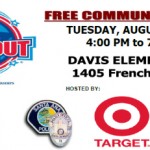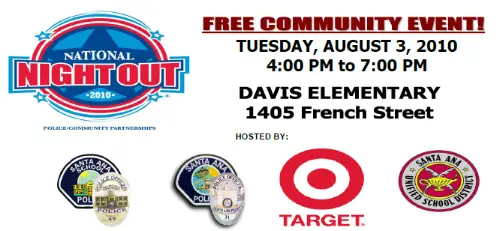 Join the Santa Ana Police Department at National Night Out, here in Santa Ana, this coming Tuesday, August 3.
HOSTED BY:
Meet Officer John Reed and "Shortstuff"
When you are Safety Alert – You Don't Get Hurt!
Police/Ambulance/Fire Displays:
BRING YOUR CAMERA – Take pictures with our HEROES!
TUESDAY, AUGUST 3, 2010, from 4:00 PM to 7:00 PM
National Night Out is an event designed to heighten crime and drug prevention awareness while strengthening neighborhood spirit and police/community partnerships.
ENJOY:
Valuable Resource Booths
Information on City Services and Programs
Face Painting
Arts and Crafts
Story Time
Watermelon Contest
FREE Hot Dogs, Chips, & Drink provided by TARGET
FOR ADDITIONAL INFORMATION CALL THE SANTA ANA POLICE DEPARTMENT: (714) 245-8738
Come Greet "Officer Byrd."
Click here for the event flier in English.  Click here for the event information in Spanish.