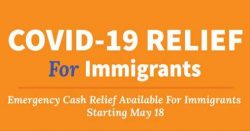 Beginning May 18, undocumented immigrants, including undocumented tax-filing workers, residing in the State of California will be able to apply for one-time state-funded disaster relief assistance.
The California Department of Social Services has selected twelve immigrant-serving nonprofit organizations to help individuals apply for and receive this disaster relief assistance in their region. Qualifying individuals can receive $500 in direct assistance, with a maximum of $1000 in assistance per household.
Nonprofit organizations will not be assisting individuals prior to May 18. Individuals should not contact them ahead of time regarding disaster relief assistance. Application assistance will not be provided in person.
In Orange County contact the Coalition for Humane Immigrant Rights – CHIRLA at (213) 201-8700.