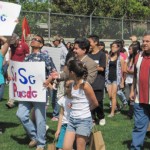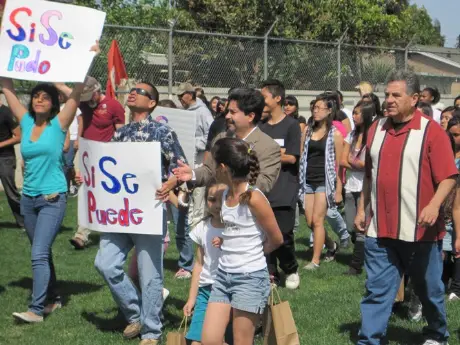 For Immediate Release: March 22, 2011
For More Information Contact: Carol Chamberlain – Office: (916) 319-2069, cell: (916) 804-5355
ASSEMBLYMAN SOLORIO INVITES PUBLIC TO CESAR CHAVEZ CELEBRATION
Wide variety of activities planned in honor of the farm worker labor leader
ANAHEIM – State Assemblyman Jose Solorio invites the community to the 11th Annual Cesar E. Chavez State Holiday and Learning Day on Saturday, March 26, 2011, from 12:00 p.m. to 3:00 p.m. The event will be held at Jerome Park located at 2201 W. McFadden Avenue, Santa Ana. Assemblyman Solorio and Maria Elena Chavez, niece of Cesar Chavez, will be on hand to greet and address the crowd.
Assemblyman Solorio marched with other attendees at last year's Cesar E. Chavez State Holiday and Learning Day. Publications: click for larger image.
"It is always a privilege and honor to work with the community to host this event," Solorio says. "Cesar Chavez's example of hard work and dedication to public service played a critical role in my farm worker upbringing in the Central Valley. This event is a great way to pay tribute to an esteemed leader who exemplified the importance of education and serving the community."
A "¡Si Se Puede! – Yes We Can!" march and rally will kick off the festivities. State Senator Lou Correa and Santa Ana Councilmember Vince Sarmiento will also join Assemblyman Solorio in a special tribute honoring the members of the United Mexican American Veterans Association who have served our country with great distinction.
There are several activities planned for the entire family. Scheduled entertainment includes performances by the "Cuatlatoa" Aztec Dancers, Ballet Folklorico, and a K-9 Unit demonstration and puppet show by the Santa Ana Police Department.
State Assemblyman Jose Solorio is the Chair of the Assembly Insurance Committee and also serves on the Assembly Appropriations and Transportation committees. He represents the Sixty-Ninth Assembly District, which includes the cities of Anaheim, Garden Grove, and Santa Ana. For more information about Assemblyman Solorio, visit www.assembly.ca.gov/solorio.
State Assemblyman Jose Solorio represents the cities of Anaheim, Garden Grove and Santa Ana. To learn more about State Assemblyman Solorio and his legislative work, visit his official website. This e-mail communication was authorized and paid for by Solorio for Assembly, ID 1314073, P.O. Box 26063, Santa Ana, CA, 92799.
###