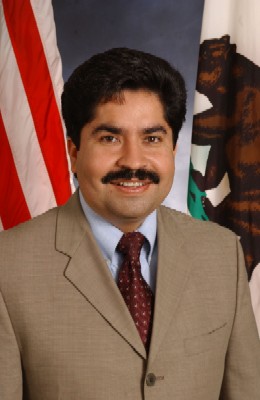 FOR IMMEDIATE RELEASE: Wednesday, May 19 2010
Media Contact: Sanjay Garla, AFSCME 3299, 415-747-2328
Asm. Jose Solorio Cancels UC Irvine Commencement Speech
Joins Low–Wage UC Workers to Honor Graduation Speakers Boycott
Santa Cruz, CA – Calling attention to the human toll taken by a University of California (UC) administration that is out of touch with its students and the low-wage workers that keep the university running, a speakers' graduation boycott will take place at 9 UC campuses.
Assemblymember Jose Solorio (D-Anaheim) is the latest civic leaders who have pledged to honor the speakers boycott until the workers and the administration resolve issues concerning contracting out, layoffs and reduced hours.
"I was looking forward to addressing the graduates at UC Irvine, but after speaking with my constituents, I have decided to cancel my speaking engagement. I must stand with the hard working service employees at UC Irvine who are fighting to rise above poverty. I sincerely hope that this conflict can be resolved in time for the upcoming graduation ceremonies. If the workers choose to lift the boycott, I would be happy to speak on campus," said Assemblymember Jose Solorio.
Organizers of the boycott say the action is necessary because of UC administrators' continued insistence on giving out executive increases while cutting student services through layoffs and reductions in hours for front line workers. According to the University administration's own estimates, cuts to low-wage workers saves $7 million in expenses. During this same period of time, UC executives have received over $9 million in increases.
On the UC Irvine campus, low-wage service workers such as custodians and food service workers are receiving a 5% reduction in hours. In addition to these cuts, UC Irvine's administration is employing over 150 groundskeepers through an outside contractor called ABM. These employees are demanding University jobs.
"I was laid off in October of last year, and so I am now back living in poverty. I support my mother and my little brother, but during the past few months, we have been barely able to pay our rent and bills. Without my support, my family is struggling to survive," said Diego Rivera, laid off groundskeeper at UC Irvine.
"These cuts have been devastating for low-wage workers," said Lakesha Harrison, president of AFSCME 3299, "Layoffs and reduction in hours are only the tip of the iceberg. UC executives are now proposing massive cuts to our retirement. We may be facing a double whammy – a depletion of our savings now and a gutting of the income we were counting on for our future."
AFSCME 3299 has called on commencement speakers to boycott nine UC campuses. Last week, Congresswoman Loretta Sanchez (D-Garden Grove, CA) announced she would not speak at UC Riverside as planned. Author Karen Joy Fowler, State Senator Gloria Romero, Asm. Warren Furutani, Asm. Fiona Ma, and Asm. Ira Ruskin have also canceled commencement speeches at various UC campuses over the past two weeks.
###