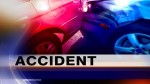 On Saturday, October 12th, 2019 at approximately 10:50 AM, the Santa Ana and Garden Grove Police Departments received several calls of a major traffic collision in the intersection of Newhope Street and Westminster Blvd. involving two vehicles.
Initial calling parties said one of the vehicle's involved was on fire with people trapped in the vehicle. Officers from both departments responded to the area with lights and sirens (code-3) and found the two vehicles involved in the collision.
They quickly determined the vehicles were not on fire. The first vehicle located was a 2013 purple Hyundai Sonata. The vehicle came to rest on southwest corner against a large light pole with major damage on the passenger side of the vehicle.
There were four occupants in the vehicle at the time of the collision. The adult male driver suffered bruising to his face and jaw and OCFA medics transported him to OC Global to be treated. Two adult females seated back seat of the vehicle suffered major internal injuries and OCFA medics transported them to nearby hospitals. One of the female passengers is currently in critical condition. A male adult passenger seated in the right front seat of the vehicle suffered major upper body injuries and OCFA Medics pronounced him deceased at the scene of the collision.
The second vehicle involved was a 2014 black Toyota Corolla. The vehicle was stopped on Newhope Street facing north in the southbound lanes with moderate damage to the left front side of the vehicle. The adult male driver reported no injuries and remained at the scene.
The preliminary investigation based on statements and video surveillance, shows the driver of the 2014 Toyota Corolla stopped on Newhope Street in the left turn lane facing north waiting for traffic to clear. Traffic appeared to be flowing north and south in both directions at normal speeds. The driver of the 2013 Hyundai was travelling south on Newhope Street in the number one lane when he was struck in the left rear portion of the vehicle by the Toyota Camry as he was making a left turn. He lost control of the vehicle and collided into the large streetlight located at the southwest corner. Neither alcohol and drugs appear to be a factor in this collision.
The Santa Ana Police Department's Collision Investigation Unit (CIU) is handling the investigation. Anyone possibly having information about this collision is asked to contact Investigator W. Hadley at (714) 245-8216 or the Santa Ana Police Department's Traffic Division at (714) 245-8200