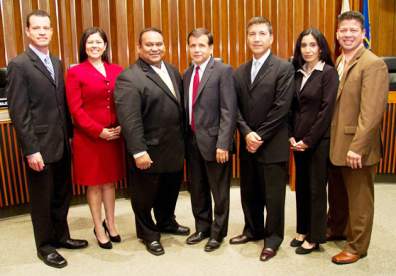 The Santa Ana City Council voted 7-0 last night to place a measure on the November General Election ballot that will give them a pay raise and allow them to raise more money from companies and contractors who do business with or in our city.  This means they want to be able to vote on matters that affect local businesses then hit them up right away for campaign cash.  Some might call that pay to play.
Several Council Members are up for re-election in November including David Benavides, Michele Martinez and Sal Tinajero.  Do they really think that advancing a self-serving measure like this will incline the voters to vote for them again?

What we really want in this city is ward-specific City Council elections – but there is no way that this City Council will let us vote on that!  They rather keep the system as it is – which means the special interests will continue to run this city with the Council Members as their proxies.
The City Council also voted on Tuesday to place "a November ballot measure that calls for adding prepaid cellphones to the utility users tax rolls and reducing the overall rate by 0.5 percent," according to the Voice of OC.
If voters approve the measure, the tax will be levied on all prepaid cellphone customers, which represent 40 percent of the city's population, according to a city staff report. Voice Over IP users, a phone technology that uses the Internet instead of traditional lines, would also be taxed.

City leaders are pitching the measure as an overall tax reduction. The rate would drop from the current 6 percent to 5.5 percent, which according to the staff report is the statewide average. The measure would also remove the $11,000 maximum tax cap.
Are you kidding me?  The City Council thinks we will vote to raise our own taxes?  Are they nuts?  What is going on at City Hall?  Who is advising these people?