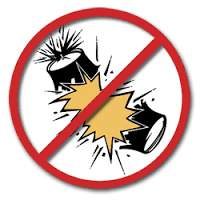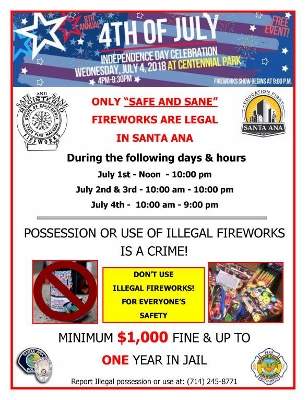 In the last two weeks, the Costa Mesa Police Department has seized 1,300 pounds of illegal fireworks. The City of Costa Mesa is a zero-tolerance city. Selling illegal fireworks is a felony, and possession/use of illegal fireworks is a misdemeanor punishable by up to $1000 fine and/or jail time.
Selling illegal fireworks in Santa Ana also can result in a minimum fine of $1,000 and even up to one year in jail. However will the SAPD actually get serious about illegal fireworks this year? 
Every 4th or July the entire City of Santa Ana explodes in illegal fireworks and I have NEVER seen anyone get arrested for this. Will anything change about that this year? It is a matter of time before a massive fire happens in Santa Ana because of these illegal fireworks.
I would love to see the SAPD crack down on illegal fireworks this year. Per the city code it is illegal to set off illegal fireworks. But you would never know that as few if any people are ever arrested for this.
I don't think most of the folks setting off the illegal fireworks in Santa Ana are actually all that interested in U.S. history. They are just looking for a cheap thrill.
I am by the way fully in support of legal, safe and sane fireworks. They are not the problem. The illegal fireworks are the problem!