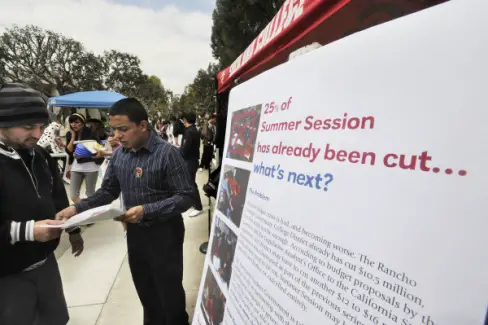 When Alex Flores raised money to save summer classes at Santa Ana College, he was building a New Santa Ana!
And now for something completely different…this is Santa Ana's new blog.  It is a place to talk about how we can make this city a better place to live.
This won't be a political blog – or a website to throw tantrums and yell at each other.  This is going to be something new – and something positive.
If you live here in Santa Ana, or work here or own a business here, this blog is for you.  If you are involved in public affairs or a non profit organization that serves the people of Santa Ana, this blog is for you.  This is YOUR blog.  If you want to get involved, click here and let me know.  I will be happy to set you up with an account so you can blog here too.
So who am I and why am I starting this blog?  My name is Art Pedroza.  I started what became Orange County's first political blog, the Orange Juice, back in 2003.  The Orange Juice blog is now the top-rated political blog in California, according to Blognetnews.com.
I have lived in Santa Ana for over 15 years.  In that time I have served on the Santa Ana Public Library Board and the Santa Ana Housing & Redevelopment Commission.  I am also a past President of Santa Ana Neighborhood Housing Services.  I served on the board of the Artesia Pilar Neighborhood Association and I was a newsletter editor for the Park Santiago Neighborhood Association.  I have run for the Santa Ana School Board and the Santa Ana City Council.  I much prefer blogging to running for office, so I won't be doing the latter again any time soon.
While I greatly enjoy publishing the Orange Juice, I believe it is time for something new here in Santa Ana.  We have all spent the last many years yelling at each other and our city is still mired in problems.  I think it is time for us to collectively roll up our sleeves and start talking about how to make things better.  That is the premise of this new blog.
So do you have an event in town that you want to publicize?  If so, this is your blog.  Do you have an idea about how to make things better?  Then this is your blog.  Are you looking for others who are like-minded to help you with a community project?  I hope so!  This is the right place to do that.
BUT – if you are looking to trash someone or pick a fight, then this is NOT your blog.  Please feel free to check in at the Orange Juice blog and you can engage in political battles 24/7.
Here at the New Santa Ana blog we are going to try positive thinking.  I believe in the people of Santa Ana.  Do you?
Art Pedroza, Editor