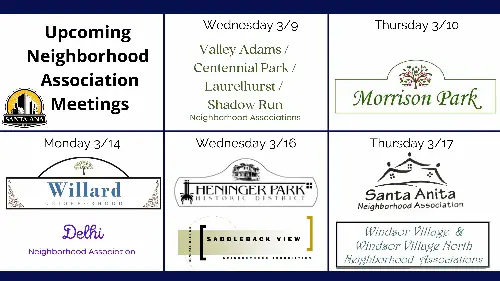 Santa Ana is home to 64 different neighborhood associations. A neighborhood association is a group of homeowners, renters, apartment dwellers, and representatives from neighborhood businesses, churches, and schools who organize activities and events and work to improve the neighborhood. We would love for you to join the next neighborhood association meeting in your neighborhood! Not sure which neighborhood you're in? Click here to check out the map.
Upcoming neighborhood meetings:
Neighborhood/Date/Time/Location/Address
Valley Adams Joint, Wed. 3/9, 6:30 p.m. Valley High School Parent Center, 1801 S. Greenville St.,
Morrison Park, Thurs. 3/10, 7:00 p.m., Pentecostal Church, 1025 Memory Lane,
Willard, Mon. 3/14, 6:30 p.m., Virtual Zoom
Delhi, Mon. 3/14, 6:00 p.m., Delhi Center, 505 E. Central Ave.
Saddleback View, Wed. 3/16, 6:30 p.m., Former OC Register building, 625 N. Grand Ave.
Heninger Park, Wed. 3/16, 6:30 p.m, TBD, TBD
Windsor Village & Windsor Village North, Thurs. 3/17, 6:30 p.m, Southwest Senior Center, 2201 W. McFadden Ave.
Santa Anita, Thurs. 3/17, 6:30 p.m, Russell Elementary, 600 S. Jackson St.
To view the full list of upcoming meetings, visit our website.
Santa Ana Neighborhood Associations Maps and Websites
Click on the neighborhood name to view more information such as maps, demographics, websites and more. Some neighborhoods have their own webpage refer to their webpage for more current information.