ANAHEIM, Calif. (May 22, 2023) – Anaheim homicide detectives are investigating two deaths that occurred yesterday just after 2 a.m. in a parking structure located in the 300 block of W. Katella Avenue.
Officers were dispatched to the structure after a large fight and shooting were reported. Officers located 32-year-old Deonte Marquis Lenin (pictured below) of Highland suffering from at least one gunshot wound. Lenin was pronounced dead at the scene.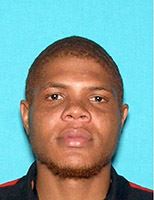 A second victim, 21-year-old Elian Tanori Arvayo of Phoenix, Arizona, was located in a different part of the structure suffering from blunt force trauma. Arvayo was transported to a local hospital where he later succumbed to his injuries. There is no photo available of Arvayo.
The police detectives investigating these murders now believe that Arvayo died possibly after a vehicle fleeing the scene ran him over. The detectives are still trying to determine how Arvayo was killed.
Detectives are asking anyone with information to contact them directly at 714-321-3669 or through Orange County Crime Stoppers at 855-TIP-OCCS.