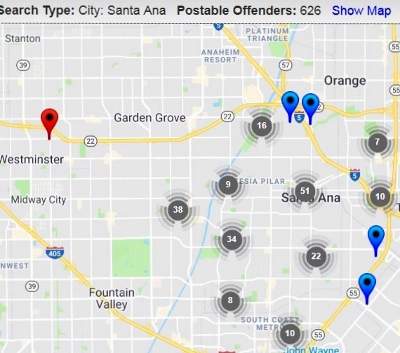 Did you know that there are currently 626 registered sex offenders listed in Santa Ana, according to the California Megan's Law website? This list includes transient offenders.
At the federal level, Megan's Law requires persons convicted of sex crimes against children to notify local law enforcement of any change of address or employment after release from custody (prison or psychiatric facility). The notification requirement may be imposed for a fixed period of time—usually at least ten years—or permanently.
Megan's Law is named after seven-year-old Megan Kanka, a New Jersey girl who was raped and killed by a known registered sex offender who had moved across the street from the family without their knowledge. In the wake of the tragedy, the Kankas sought to have local communities warned about sex offenders in the area. All states now have a form of Megan's Law.
In 1947, California became the first state in the nation to enact a sex offender registration law that required offenders convicted of specified offenses to register with their local law enforcement agency. This practice is still in place and the California Sex and Arson Registry (CSAR) serves as the statewide repository for information on registered sex offenders. Today, the California Sex Offender Registry continues to provide a wide range of services that support and assist the law enforcement community with the monitoring and registration of over 120,000 California sex offenders. These services include maintaining and providing information to the general public via the California Megan's Law Internet Web site.
You may look up your address here to see if any registered sex offenders live in your neighborhood.