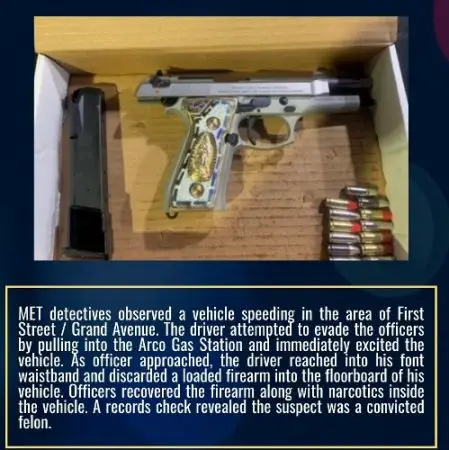 The SAPD has released their weekly firearms seizure update, for the week of 01/29/2022 – 02/4/2022.
SAPD Met detectives observed a vehicle speeding in the area of First Street and Grand Ave. The driver attempted to evade the police officers by pulling into an Arco gas station and immediately exited the vehicle.
As an officer approached the suspect reached into his front waistband and discarded a loaded firearm onto the floorboard of his vehicle.
The officers recovered the firearm and also found narcotics in the vehicle. To top it all off the suspect turned out to be a convicted felon who will now get to enjoy endless bologna sandwiches in prison again.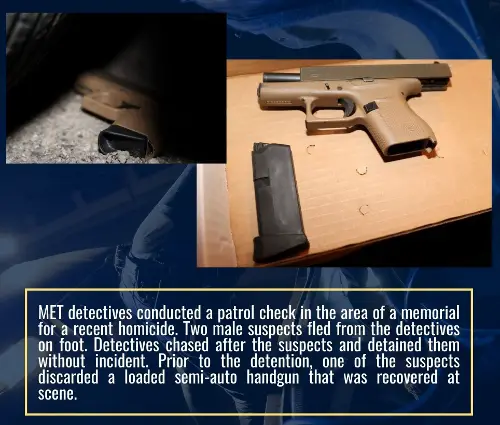 SAPD MET detectives conducted a patrol check in the area of a memorial for a recent homicide. Sure enough two male suspects fled from the detectives, on foot.
The detectives chased after the suspects and were able to detain them without incident.
Prior to the detention one of the suspects discarded what turned out to be a loaded semi-automatic handgun to no avail as the detectives were able to recover the gun at the scene.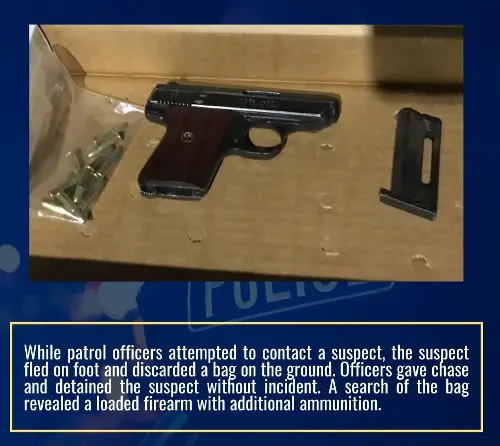 A suspect fled on foot while SAPD patrol officers attempted to contact him. As he fled the suspect discarded a bag on the ground.
The officers gave chase and were able to detain the suspect without incident.
A search of the bag revealed a loaded firearm with additional ammunition.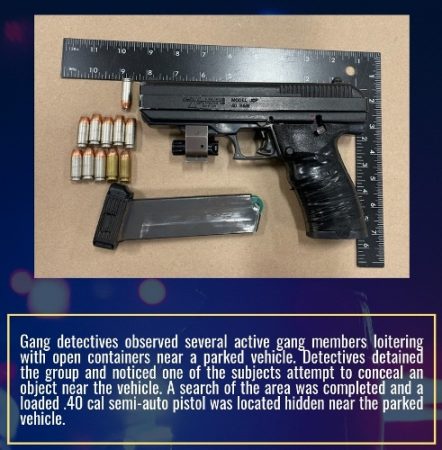 SAPD gang detectives were observing several active gangbangers that were loitering with open containers near a parked vehicle.
The detectives detained the group and noticed that one of the subjects was attempting to conceal an object near the vehicle.
A search of the area was completed and a loaded .40 caliber semi-automatic pistol was located, hidden near the parked vehicle.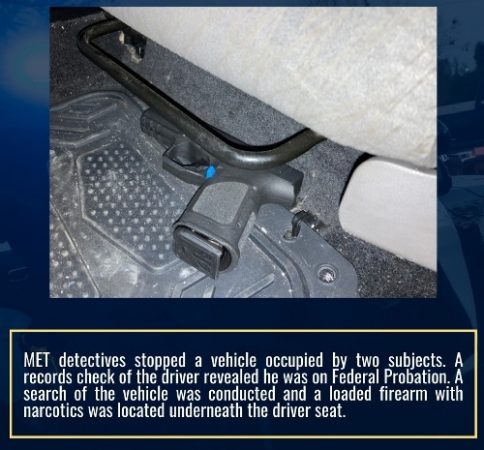 SAPD MET detectives stopped a vehicle that was occupied by two subjects.
A records check of the driver revealed that he was on Federal Probation.
The detectives then searched the vehicle and found a loaded firearm and narcotics hidden underneath the driver's seat.