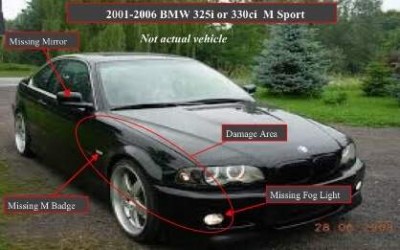 Santa Ana Police Department
Advisory: SAPD traffic investigators need media and community assistance locating vehicle wanted in hit and run collision
On 02/28/15 at approximately 0819 hours, officers responded to the scene of a vehicle versus pedestrian collision near the intersection of 5th St. and Fairview St.
When officers arrived at the scene, they located the pedestrian (a male juvenile) lying in the northbound lanes of Fairview St. just south of Civic Center adjacent to the east sidewalk. The pedestrian was treated by paramedics and he was transported to the hospital with life threatening injuries.
Witnesses described the vehicle that struck the pedestrian as a small black vehicle. The driver fled from the scene after the collision without stopping to render aid to the pedestrian.
Collision Investigators recovered evidence at the scene of the collision that indicates a black, 2001-2006, BMW, 300 series equipped with a M series sports package was involved in the collision.
Any person who may have witnessed this collision or has additional information about the BMW and the driver is asked to call Investigator Bao at (714) 245-8214 or Orange County crime stoppers 1-855-tip-occs.
###