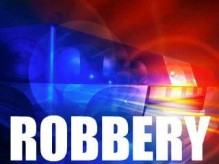 Santa Ana Police Department
Advisory: SAPD Detectives Asking For Media & Public's Assistance in Identifying Suspects In Jewelry Store Smash & Grab Robbery
On Sunday June 18, 2017, at approximately 2:13 p.m., three suspects, who appear to be male Hispanics in their early twenties, walked into the Superior Market (1710 S. Main St., Santa Ana) wearing dark clothing and covering their faces with skull printed bandanas.
The three suspects approached the independent jewelry counter of Queen Jewelry and suspect one smashed the jewelry display case with a hammer.
Suspect two reached inside the smashed display case and stole a display tray containing an unknown quantity of gold wedding bands, which the owner estimated valued at $4,000. Suspect three acted as a look out for the group and all three suspects fled with the jewelry store when the owner defended himself and his property with a baseball bat.
Witnesses observed the suspects enter a purple colored Prius and stated they fled the business location in a westbound direction. Anyone with information on any of the suspects in this crime are asked to contact Officer C. Donahue at 714-245-8268, Email: CDonahue@Santa-Ana.org or Orange County Crime Stoppers at 1-855-TIP-OCCS.