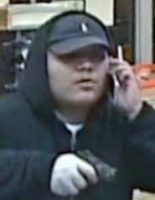 Santa Ana Police Department
Advisory: Detectives Asking For Media & Publics Assistance In Identifying Armed Robbery Suspect
Crime Type: PC 211—Armed Robbery (Black Handgun)
Synopsis: On 7/6/2017 at approximately 11:30 p.m., the suspect committed an armed robbery at the Arco Gas Station located in the 1700 block of East Dyer Road. Approximately an hour and a half later, the same suspect committed another armed robbery at the Arco located in the 3400 block of South Main Street.
In both incidents, this suspect pointed the handgun directly at the victims and demanded money from the registers.
Suspect Description: Male, Hispanic; 25-30 years old; 5'10" and 250 lbs. He was wearing a black zip-up hooded sweatshirt; black pants; black and white sneakers (white laces); and a black baseball cap (with a white logo).
Locations: Arco Gas Station, 1727 E. Dyer Rd., Santa Ana and Arco Gas Station, 3414 S. Main St., Santa Ana
If you have any information as to the identity of this individual, please contact Police Investigative Specialist L. Delisle at (714)245-8647, email ldelisle@santa-ana.org or Orange County Crime Stoppers at 1-855-TIP-OCCS.