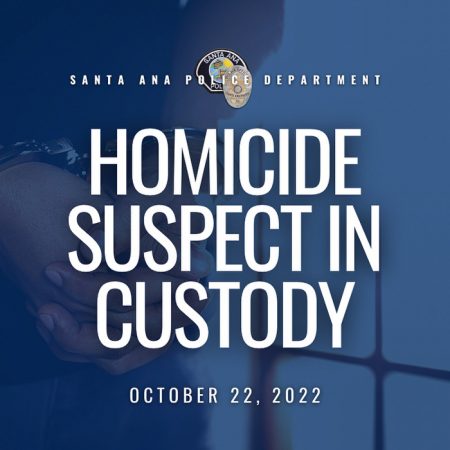 On Saturday, October 15, 2022, at 2:40 a.m., Santa Ana Police officers responded to the 1500 block of East Warren regarding a report of an adult male lying in the street, suffering from multiple gunshot wounds.
Officers arrived at the scene, located the victim, and immediately began performing life-saving measures. Orange County Fire Authority arrived at the scene and transported the victim to a local trauma center, where he was pronounced deceased at 3:24 a.m.
Through investigative means detectives developed information regarding a possible suspect vehicle involved in the homicide. Detectives confirmed the vehicle and ultimately detained the driver and one of the occupants.
Subsequent information revealed that a third suspect was involved in the homicide. Pursuant to a search warrant executed in the City of Santa Ana, an additional suspect was located and detained. A firearm was also located during the investigation.
With concurrence from the Orange County District Attorney's Office, detectives booked the three suspects into the Santa Ana Jail for various charges including murder and weapons charges.