On Sunday, December 18, 2022, at 1:46 AM, a male adult, suffering from a gunshot wound to his abdomen, was driven to a local hospital by his friend. The friend disclosed to medical staff that an additional shooting victim was in a vehicle in the area of 2100 S. Main Street.
SAPD police officers responded to this location and located a male adult seated in a vehicle in the parking lot, suffering from a gunshot wound to his upper torso.
Orange County Fire Authority responded to the scene and pronounced the victim deceased.
During the preliminary investigation, detectives located several cartridge casings at the scene. Surveillance video from a nearby business captured a dark-colored pickup truck driving westbound on St. Gertrude Place moments before the shooting.
In their investigation, detectives learned several subjects were congregating in the 7-Eleven store parking lot when they confronted three individuals who were spray painting at a nearby business.
After the confrontation, the suspects fled and the other subjects returned to the parking lot of the 7-11.
Detectives believe that a short time later the dark-colored pickup truck drove back to the area and fired several rounds in the direction of the parking lot.
Through investigative resources, detectives identified the pick truck and the three suspects involved in this homicide.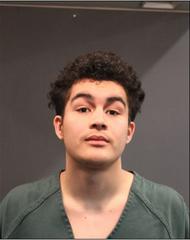 The suspects were identified as:
Jesus Daniel Reyes (18), residing in Santa Ana.
Adan Costantino Reyes (18), residing in Santa Ana.
An unnamed 17-year-old male residing in Santa Ana.
On Friday, December 23, 2022, detectives from the Major Enforcement Team located the suspect's vehicle unoccupied in the 2000 block of South Pacific Avenue.
On Wednesday, January 25, 2023, detectives from the Gang Suppression Unit, Major Enforcement Team, Special Investigations Division, Directed Enforcement, Santa Ana School Police, and the Garden Grove Police Gang Unit executed search warrants for all three locations associated with the suspects.
All three suspects were taken into custody without incident, followed by seizures of additional evidence during the execution of the search warrants.
As a result of this investigation, and with concurrence from the Orange County District Attorney, Jesus Reyes and Adan Reyes were booked into the Santa Ana Jail for CPC 187 – Murder. Charges are pending for the juvenile suspect.