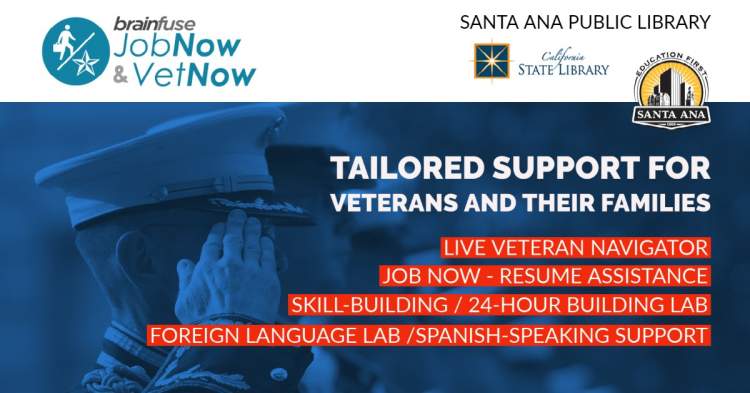 The Santa Ana Public Library launched a new free online service called Brainfuse VetNow/JobNow that provides live job and training assistance specially tailored toward veterans in the community. The service is provided to our library and community at no cost through CARES Act funding from the California State Library for the next two years.
The COVID-19 pandemic has required libraries to approach services in new ways. The VetNow/JobNow resource offers veterans and all residents in the community help with navigating VA benefits and a host of other services including:
• Live Veteran Navigator: Interact with live tutors in math, science, reading/writing, social studies, PSAT/SAT, ACT, AP and state standardized tests.
• JobNow: Receive live job coaching, real-time interview practice, full-service resume lab, 24/7 access to local job resources and more!
• Resume Assistance: Prepare your resume with help from JobNow resources including resume templates; receive expert feedback via live interaction or the resume lab.
• Prepare for Your Interview: Review interview tips and resources; connect with a job coach to practice interviewing.
• Live Assistance: Interact with live tutors in math, science, reading, writing, history, GED, college placement tests and more!
• Career Resources: Begin your job hunt with JobNow's powerful tools.
• Skills-Building: Choose your topic to receive real-time help.
• Multiple Ways to Learn: Multiple, research-based tools to accommodate all types of learners.
• Thousands of Robust Lessons: Clear explanations and vivid artwork to help users master academic concepts.
• Broad Range of Subjects: Full academic support for patrons in hundreds of subject areas, including AP subjects, career certifications, GRE, GMAT, and more.
• Personalized eLearning Tools: My File Sharing, My Session Replay, My Tutoring Archive, My Tests Archive, and more!
• Adult Learning Center: Access a library of rich adult learning content (GED) and live, professional assistance in resume/cover letter writing, U.S. citizenship prep, MS Office Essential Skills Series, and more!
The service can be accessed by clicking the link below and is free with a Santa Ana library card: www.santa-ana.org/library/elibrary/digital-collection
Don't have a library card? Get one free at www.santa-ana.org/library/get-library-card
La Biblioteca Lanza Programa de Asistencia de Empleo para Veteranos
La Biblioteca Pública de Santa Ana lanzó un nuevo servicio en línea gratuito llamado Brainfuse VetNow/JobNow que proporciona asistencia de empleo y capacitación en vivo especialmente adaptada a los veteranos en la comunidad. El servicio es gratis para la biblioteca y la comunidad y por los próximos dos años está respaldado a través de los fondos CARES de la Biblioteca Estatal de California.
La pandemia COVID-19 ha requerido que las bibliotecas busquen nuevas maneras de proveer sus servicios. El recurso VetNow/JobNow le ofrece a los veteranos y a todos los residentes de la comunidad ayuda navegando los beneficios del VA y una serie de otros servicios, incluyendo:
• Navegador para Veteranos en Persona: Interactúe con tutores en matemáticas, ciencias, lectura/escritura, estudios sociales, PSAT/SAT, ACT, AP y pruebas estandarizadas estatales.
• JobNow: Reciba 'coaching' de trabajo en persona, oportunidad de practicar sus entrevistas, un lugar de ayuda completa para preparar su resume, acceso 24/7 a recursos laborales locales y mucho más!
• Asistencia con su Resume/CV: Prepare su CV con la ayuda de los recursos de JobNow, incluyendo modules de CV; reciba a través de la interacción en vivo o por el laboratorio de CV, comentarios de expertos sobre su CV.
• Prepárese para Su Entrevista: Repase consejos y recursos para su entrevista; conéctese con un coach de trabajo para practicar las entrevistas.
• Asistencia en vivo: ¡Dialogue con tutores en vivo sobre matemáticas, ciencias, lectura, escritura, historia, GED, pruebas de colocación universitaria y mucho más!
• Recursos profesionales: Comience su búsqueda de trabajo con las poderosas herramientas de JobNow.
• Desarrollo de habilidades: Elija la destreza que quiera adquirir para recibir ayuda en el momento.
• Múltiples formas de aprender: Hay varias herramientas basadas en investigaciones académicas para ayudar a todo tipo de estudiantes.
• Miles de lecciones sólidas: Explicaciones claras e ilustraciones efectivas para ayudar a los usuarios a dominar los conceptos académicos.
• Amplia gama de temas: Apoyo académico completo para nuestros usuarios en cientos de temas, incluyendo AP, certificaciones de carrera, GRE, GMAT y mucho más.
• Herramientas personalizadas de eLearning: ¡Usando Mi intercambio de archivos, Mi reproducción de sesión, Mi archivo de tutoría, Mi archivo de pruebas y mucho más!
• Centro de Aprendizaje para Adultos: ¡Uso de una biblioteca enriquecida con información de aprendizaje para adultos (GED) y asistencia profesional en vivo en la preparación de correspondencia de trabajo y currículum vitae, preparación para la ciudadanía de Estados Unidos, uso de la serie de MS Office Essential Skills, y más!
El programa es gratis con su tarjeta de la biblioteca de Santa Ana. Puede entrar a este programa haciendo un clic en el siguiente enlace: www.santa-ana.org/library/elibrary/digital-collection
¿No tienes una tarjeta de biblioteca? Consigue una gratis en www.santa-ana.org/library/get-library-card.