Retired NBA player Dennis Rodman, who once played for the Lakers, is waiting to see if prosecutors will file charges against him in an alleged hit-and-run accident, according to the O.C. Register.
To date Rodman has not been cited or arrested, according to the CHP. However the agency did recommend that the OCDA charge Rodman with felony hit-and-run and driving the wrong way on a freeway.

Rodman's latest troubles began at 12:30 a.m. on July 20, when he allegedly almost crashed into a black BMW sedan that was traveling south on the carpool lane on the 5 Freeway. The CHP is alleging that Rodman was driving a white luxury SUV north in the southbound carpool lane.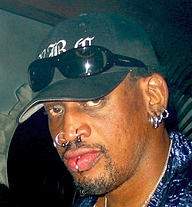 The driver of the black BMW had to swerve to avoid a head-on collision with Rodman's vehicle – but doing so caused him to smash into the highway's center divider. After the crash, Rodman stopped and allegedly spoke to the driver of the BMW, but they did not exchange information, such as driver's license numbers. Rodman reportedly got back in his SUV and he headed southbound.
As a result Rodman is now facing the prospect of felony hit-and-run charges and an additional charge for driving in the wrong direction.
Rodman has a history of alcohol-related offenses, according to the Sporting News.
A passenger in the BMW complained of pain. It was unclear whether drugs or alcohol were a factor in the incident.