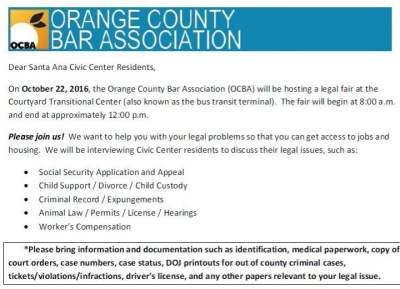 FREE LEGAL FAIR
On October 22, the Orange County Bar Association (OCBA) will be hosting a legal fair from 8 a.m. – 12 p.m. at The Courtyard Transitional Center (also known as the bus transit terminal located across the street from the County Executive Office which is located at 333 W. Santa Ana Blvd., Santa Ana.
The OCBA wants to help you with your legal problems so you can get access to jobs and housing. They will be interviewing Civic Center residents to discuss their legal issues such as:
Social Security Application and Appeal
Child Support/Divorce/Child Custody
Criminal Record/Expungements
Animal Law/Permits/Licenses/Hearings
Workers' Compensation
Please bring information and documentation such as identification, medical paperwork, copies of court orders, case numbers, case status, DOJ printouts four out of county criminal cases, tickets/violations/infractions, driver's license and any other papers relevant to your legal issue.
About the OCBA
The Orange County Bar Association provides a wide variety of programs, services and opportunities for its attorney members, the judiciary, and the community. The OCBA is one of the largest voluntary bar associations in California, with over 9,000 members. Members meet regularly in sections and committees dedicated to various areas of law and issues of concern to the legal community.