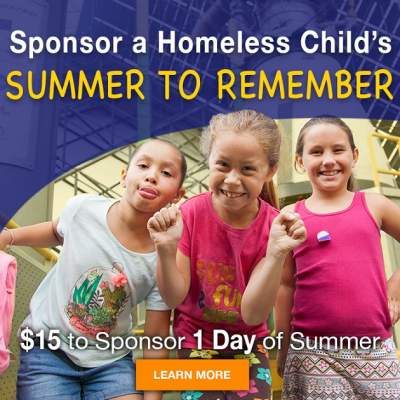 OC RESCUE MISSION CALLS FOR COMMUNITY SUPPORT TO HELP SEND HOMELESS CHILDREN TO SUMMER CAMP
Orange County, Calif. – The Orange County Rescue Mission is in critical need of the community's help to provide funding for its fifth annual "Summer to Remember" program, a nine-week summer camp for children living at the Village of Hope, a transitional living facility for homeless individuals and families.
Starting at just $15 per day per child, community members can choose to sponsor one day, one week, or even the entire summer for a homeless child.
The program, which begins on June 19 and is designed for children ages 5 to 12, provides kids with STEM-based learning activities, as well as a curriculum that focuses on building solid foundations in science, technology, engineering and math.
"This is an important program that helps children to grow not only intellectually, but also socially and emotionally," says Jim Palmer, President of the Orange County Rescue Mission. "Children who have experienced homelessness often face mental and social challenges. Homeless children are twice as likely to develop a learning disability or to repeat a grade. However, with financial support from the local community for educational programs, those circumstances can change dramatically."
Palmer notes that homelessness is on the rise locally, and points to a recent local census that reported an 8 percent rise in homelessness since 2015.
"The Rescue Mission's population of homeless children continues to grow tremendously," says Palmer. "As we prepare to provide the next generation with tools that will enable them to succeed, our hope is that the community will stand behind us and help provide the support these children need."
With fun activities and field trips that focus on academics, social engagement, recreation, sports, fine arts and more, the "Summer to Remember" comprehensive camp gives children living at the Village of Hope an opportunity to partake in unique learning experiences alongside their peers.
"Our students look forward to this program every year," says Palmer. "Our staff organizes several field trips to places like Bolsa Chica State Beach, the Discovery Cube, Concordia University's Learning Lab, local libraries and more, allowing students to truly enjoy their summer while also learning new things."
Palmer notes that the Rescue Mission has added a new creative element this year for students in grades 4 through 8, who will have the chance to visit the Creativity Lab in Santa Ana.
"This new activity will encourage critical thinking, problem solving, and hands-on exploration," he says.
With support from the community, a total of 45 children will have the opportunity to take part in the OC Rescue Mission's "Summer to Remember" camp. Community members are encouraged to sponsor one or more students by donating at www.rescuemission.org/summer, or by clicking on the "Summer to Remember" banner on the Rescue Mission's website homepage. For questions, please contact Haley Duffy at (714) 247-4389.
About the Orange County Rescue Mission
The Orange County and Inland Empire Rescue Missions are part of a privately funded non-profit organization that uses Biblical principles in its programs such as relationships, finance, and parenting. The Rescue Mission's innovative facilities and programs provide food assistance and shelter in addition to counseling, education, job training, mental wellness, life skills training, and medical services to provide a solid foundation for the transition to a self-sufficient life. Its programs and dedication to going above and beyond have earned the organization numerous recognitions including Charity Navigator's highest rating of 4-Stars. To make a donation or inquire about volunteer opportunities with the Rescue Mission, please contact (714) 247-4377 or visit www.rescuemission.org.
# # #