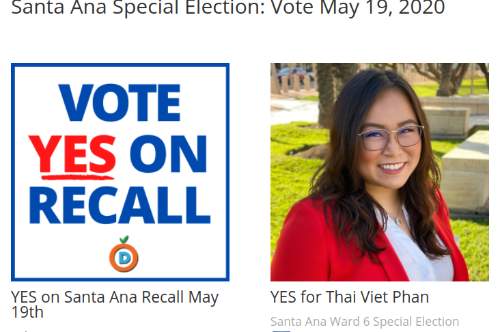 The ongoing Santa Ana Recall Election against Santa Ana City Council woman Ceci Iglesias has become a fairly partisan campaign, with the full endorsement of the Democratic Party of Orange County.
However the local Democrat powerbrokers did not endorse Nelida Mendoza, a Rancho Santiago Community College Trustee, to replace Iglesias on the Santa Ana City Council.
Who did the Democratic Party of Orange County endorse to replace Iglesias? Well they sure weren't going to endorse conservative candidate Angie Cano. The Democratic Party of Orange County endorsed Thai Viet Phan.
The campaign to recall Santa Ana City Councilwoman Ceci Iglesias is in the end exactly what it appears to be. It is a partisan attempt by the Democratic Party of Orange County, in cahoots with the Santa Ana police officers' union and the embittered public school teachers that fought against Iglesias when she was an SAUSD Trustee, to remove from office a duly elected City Council Member because they don't agree with her politics.
And what politics are those? Iglesias is guilty of one thing – looking out for the local taxpayers in Santa Ana. We have an entire City Council that is in cahoots with the public employee unions. They will spend our city into bankruptcy – with the exception of Iglesias and Mayor Pro Tem Juan Villegas.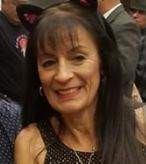 I suppose the only saving grace in this entire mess is that the Democrats endorsed Phan instead of Mendoza. Phan is a bright young lawyer while Mendoza is a longtime political hack. Replacing Iglesias with her would be a complete disaster for our city.
Remember by the way that the local Democrats also endorsed the recent recall in Westminster – and that one failed too.
Recall elections are low turnout affairs. My guess is that Iglesias' supporters will vote and she will prevail. Even worse for her partisan enemies she will emerge from this recall election stronger than ever – and she is already running for Mayor in November. By trying to recall her they just might have made her an unstoppable juggernaut. She very well might end up replacing termed out Mayor Miguel Pulido. And she will, no doubt, remember those who stood against her…
Click here to join the No on the Santa Ana Recall campaign.