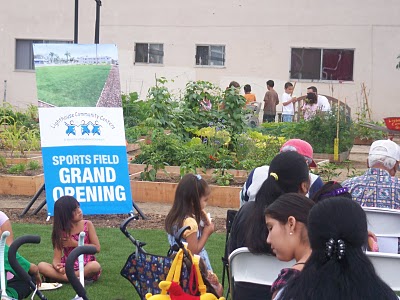 By Sophin Zoe Pruong-McCreery
July 31, 2010
Santa Ana, CA—Judging from the huge smile on Nubia's face, one could not imagine that this 6 year-old girl once lacked a safe, nearby place to play outside of school grounds. Her family resides in the Cornerstone Village, a Santa Ana neighborhood historically known for crime, poverty and dense population. It is home to immigrants from Mexico, Central America, and Cambodia. Today, her wish of a new park came true.
Over 300 people gathered for the Grand Opening of the Lighthouse Community Center (L.C.C.) Sports Field and Community Garden at the northeast corner of Standard & McFadden Avenue on Saturday, July 31, 2010 from 10:00am-12:00pm. Lighthouse Community Center is an outreach of Mariners Church, Irvine, CA.

The new pocket park came to fruition because of the tremendous support and cooperation from city officials, non-profit agencies, and the private sector. This monumental project was the result of months of planning and close collaboration with Councilman Vincent Sarmiento, the City of Santa Ana, Carver Construction, The Grain Project, the private property owner and the local residents of Cornerstone Village.
Although L.C.C. has been offering the Minnie Street area with English classes, after school tutoring, youth groups, and parenting workshops for over 15 years, there was an important element missing: open space. The outdoor area will enable L.C.C. to expand their program to include outdoor activities in this under-served area.
According to the national Trust for Public Land, the City of Santa Ana has very limited open space, with less than an acre of park land for every thousand residents. Now the community can enjoy a beautiful, green sports field with over 9000 square feet of synthetic turf. The lawn is low-maintenance and does not require water so it is considered as an environmentally-friendly material. Presently, the new field is only a temporary solution to the problem; the land is leased to L.C.C. for only 2 years.
Click here to read the rest of this post.