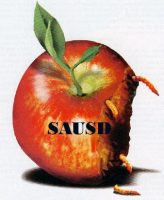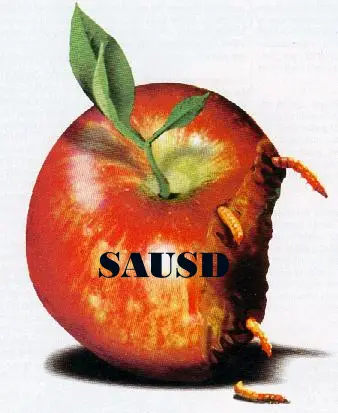 By: SAUSD Trustee Cecilia Iglesias
Just want to share on what is happening in SAUSD as I was rudely stopped from sharing during today's Board meeting.
Confronting a financial DISASTER they helped create, teachers union leaders did today what they've done for years: They blamed someone else. And of course they blamed me.
Barbara Pearson the Teacher's Union President sent her President's newsletter to teachers blaming me for declining enrollment in the district's schools.
If you are an SAUSD Teacher, you may have seen the March 2017 Newsletter. It suggests that my work to provide parents with alternatives to school choice to under-performing schools led to an exodus of Students from district schools.
But enrollment has been declining since 2002. I was First Elected in 2012. I first received the documents in March 2015, in a meeting, where our Assistant Superintendent of Facilities provided us –the Facilities Master Plan, a document showing that the number of students in our district had been falling since 2002 and would continue to decline in the future. The projection covered thru FY2017-2018 to 49,527 total student enrollment.
Despite that long-term decline, teacher's union leaders, Susan Mercer and Barbara Pearson lobbied for higher teacher pay every year. Understand that: in any other business, a decline in customers would lead to cost-savings measures. But not here in Santa Ana Unified. Since 2015, union leaders have worked overtime to sell their members and my colleagues a MYTH – that teacher pay can continue to rise even as the student population and revenue decline.
Three times in three years, union leaders Susan Mercer and Barbara Pearson told their members and my fellow trustees that teacher pay could rise every year. Every year, my fellow trustees took the path of least resistance. They caved to Mercer and Pearson. In the end, over three years, teacher salaries went up 16 percent.
That was financially unsustainable. And tonight, we reached the dead end of that logic – the place where rising teacher pay and declining student enrollment collide with mathematical reality. Which translates to roughly $32 million in pay increase and $55 Million in retirement increase on the backs of taxpayers. Today our Superintendent informed us that the potential layoff of the 287 staff, translates to $28 Million in cost saving to our budget. We could have saved everyone's job. But as always, the Teacher's Union thought about their pockets and didn't protect their members.
The mathematical reality means that new teachers – the youngest teachers in our district – will be terminated to ensure SAUSD does not go into a negative certification by the County Department of Education. It means that our students will be put into larger class sizes. And it means that our remaining teachers will shoulder the additional work of those larger classes.
Let me be clear: The newest teachers won't be terminated because they're bad teachers. They'll be terminated only because they're new – because the same union leaders who led our teachers into a dead end also insisted that the last teachers hired would be the first OUT in a financial calamity. This is referred to as Last In First Out (LIFO).
I want to say something to those 287 teachers who may be laid off: I'm sorry!! You no doubt started your work at SAUSD with great enthusiasm for the mission of educating Santa Ana's young minds. You likely knew the challenges and rewards of working for SAUSD, but you just as likely celebrated your career with calls to friends and family that you were ready to Teach our young minds with energy, courage and creativity.
I think about those phone calls and celebrations tonight with sadness. You had no reason to expect that the Leaders of your own union would BETRAY you. But they did!!! And you had every reason to expect that this school board would protect you from the Teachers' Union leadership's destructive and single-minded push for higher wages. But they didn't!!!
The union leadership's chokehold on the School Board members – the destructive influence of union money poured into the political campaigns of my fellow trustees – confused my colleagues. They came to believe that they owed their positions to union leaders rather than to the education of our children, protecting great teachers and serving our families.
You deserved better! Our students and our families deserved better!!
Please know that I stand with Great Teachers and with our parents and students. I will stand up to the Bullies of the Teacher's Union Bosses, Barbara Pearson and Susan Mercer and will not cave to their scare tactics of placing blame on others when they find themselves having to answer why Great Teachers are being laid off and Our Students will be short changed from the resources that were rightfully due to them.
If you would like to continue to be informed on Transparency on Public Education please connect with the Santa Ana Parent Union group.