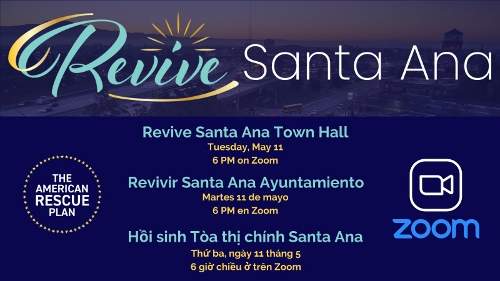 The City of Santa Ana is planning to use $142.9 million from the American Rescue Plan Act of 2021 to launch Revive Santa Ana, a comprehensive pandemic recovery initiative that also will allow the City to reimagine the services it provides.
We have many ideas about how this money could be used, but we want to know what our residents and community members think!

May 11 Community Town Hall: Join us for a virtual Community Town Hall on Tuesday, May 11, at 6 p.m. to hear from City Manager Kristine Ridge, ask questions and share your ideas.
PARTICIPATE:
Join on Zoom – https://us02web.zoom.us/j/88996003457
Or Dial 669-900-9128, Webinar ID: 889 9600 3457
WATCH:
On the City's YouTube channel.
Or on the City's TV Channel, CTV3, available on Spectrum channel 3 and AT&T U-verse channel 99.
Revive Santa Ana Survey: Respond to our online survey to help us prioritize new programs and share your ideas.

Learn more: https://www.santa-ana.org/revive-santa-ana
Reunión Comunitaria de Revive Santa Ana 11 de mayo
Español: https://bit.ly/3xV1Asc
Họp cộng đồng để hồi sinh Santa Ana
Tiếng Việt: https://bit.ly/3erZyIk