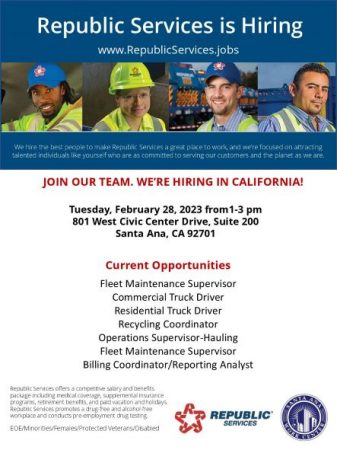 The Santa Ana WORK Center will host a Job Fair on Tuesday, February 28, 2023, from 1:00 p.m. to 3:00 p.m.
Meet and interview with the following employers:
Republic Services is hiring commercial & residential truck drivers, supervisors, and billing coordinators.
ERN Services is hiring full-time and part-time security guards and full-time and part-time janitorial positions.
Partners Personnel is hiring machine operators, assemblers, shipping and receiving, and quality control.
Recruitment Location: Santa Ana WORK Center
801 West Civic Center Drive, Suite 200, Santa Ana, CA 92701
For any questions, please call 714-565-2600