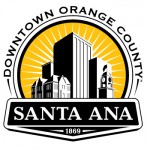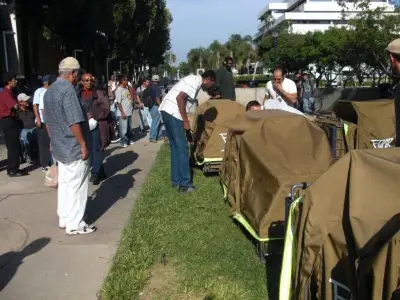 City of Santa Ana, Downtown Orange County
Community: City of Santa Ana Approves Funding to Provide Permanent Supportive Housing for Homeless Veterans and Chronically Homeless Individuals
At its last City Council meeting, the City of Santa Ana unanimously approved awards of 100 project-based vouchers to develop two permanent supportive housing projects with wrap-around supportive services for homeless veterans and chronically homeless individuals.
The first project, Santa Ana Veteran's Village to be developed by Jamboree Housing Corporation, located at 3312 West 1st Street in Santa Ana, was awarded 75 HUD-VASH project-based vouchers to develop 75 units of permanent supportive housing for homeless military veterans. The design will feature two three-story buildings including a multipurpose space, a private meeting office for the service provider, property management offices, a central laundry facility, a fitness room, a community kitchen, a community garden, and barbecue grills.
Jamboree Housing Corporation has partnered with Step Up on Second Inc. (Step Up) to offer a variety of on-site resident service programs tailored to the needs of the residents. Case management services, employment assistance, psychological services, Veterans Affairs services, and pro-bono legal services are among the range of supportive services that will be provided on-site.
The second project, Aqua Housing to be developed by Community Development Partners, located at 317 East 17th Street in Santa Ana at the site of the Aqua Motel, will provide 58 units of permanent supportive housing for chronically homeless individuals. The project will serve chronically homeless individuals residing in Santa Ana referred through the Continuum of Care Coordinated Entry system. Community Development Partners has partnered with Mercy House for this project to provide wrap-around supportive services and expertise for serving the chronically homeless population.
Both projects will apply a Housing First model and provide wrap-around supportive services to homeless veterans and chronically homeless individuals on-site.
Council member Villegas states, "This is a great example of Santa Ana doing our best to serve veterans in the community. We greatly appreciate the sacrifice and dedication of our military veterans and we honor their service through this project and our work throughout the City."
Councilmember Solorio adds, "These two exciting projects reinforce our leadership and commitment to providing affordable housing for the most vulnerable members of our community. Both Jamboree Housing and Mercy House have decades of experience in serving homeless individuals in Orange County and this is an outstanding partnership that will bring more affordable housing to our community."
For more information, see the full staff report.