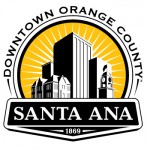 City of Santa Ana, Downtown Orange County
Community Alert: CITY OF SANTA ANA CONSIDERS WATER AND SEWER RATE ADJUSTMENT
SANTA ANA, CA (January 5, 2015) – On December 2, 2014, the City Council unanimously approved a water and sewer system study and provided direction to staff to proceed with notification of proposed water and sewer rate adjustments in compliance with proposition 218 requirements.
The City estimates the five-year average water rate increase will be 2.2% per year and the five-year average sewer rate increase will be 9.3% per year for a combined average of about 3% per year. For details on the study, please refer to the study online at www.santa-ana.org/wateradjustment.
The City of Santa Ana owns and operates a water system and a sewer collection system that provides services to a population of over 330,000. The City Council directed staff to perform a comprehensive examination of City assets, capital needs and financial condition of both the water and sanitary sewer enterprises.
As a result of this study, the City of Santa Ana is proposing a water and sewer rate adjustment that, if adopted by City Council, would help fund critical capital improvement project needs and offset rising operational costs.
"This proposed water and sewer rate adjustment will go a long way to improve the City's aging infrastructure and prevent future water or sewer line breaks," said Fred Mousavipour, Executive Director of Public Works.
The proposed rate adjustment would maintain the City's existing level of service as well as address the City's long term water and sewer infrastructure needs. Specific goals for the long-term plan include:
• Set recommended level of operating and capital reserves
• Develop a Rehabilitation and Replacement (R&R) Program for routine capital
• Improve revenue stability
With the adjustment, the City's overall rates will continue to be among the lowest among Southern California water and sewer agencies. Copies of the Water & Sewer Rate Studies are available for review on the City website, the City Clerk's Office, City Hall Public Works Counter and the City's Main Library.
The City welcomes comments and input on the proposed rate adjustment. A public hearing is scheduled for February 17, 2015, at 5:45 p.m., in the City Council Chambers, 22 Civic Center Plaza, Santa Ana, CA 92701.
###