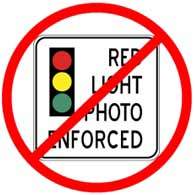 The Santa Ana City Council Tuesday voted unanimously to terminate the city's contract with a red-light camera vendor that is the subject of a federal bribery investigation, with council members saying the nearly $500 fines associated with red light tickets are an excessive burden on residents, according to the Voice of OC.
However, the contract with Phoenix-based RedFlex Traffic Systems doesn't expire until June, 2015 and city officials said the cameras must stay up until then because they can't terminate the contract early.
You know that some of these Council Members must have voted for these cameras originally.  Voters should certainly hold that against them in November.

How anyone thought that charging the people of Santa Ana $500 for a red light ticket was fair is impossible to understand.  Granted we don't want folks running red lights but the majority of these tickets are for cars that barely cross the crosswalk.
The bigger problem in our city is jaywalkers.  Until our residents start obeying traffic laws, as drivers and as pedestrians, the needless deaths are going to continue.