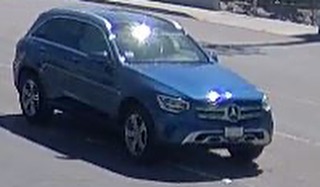 On August 7, 2023, at approximately 3 p.m., Anaheim PD Officers responded to the area of Euclid St. and Glenoaks Ave. regarding a traffic collision.
Tragically, a motorcyclist, Cpl. Han Cho, an off-duty Garden Grove Police Officer, died due to the collision.
Traffic Investigators believe the driver of the above vehicle, a bright-blue Mercedes-Benz SUV, possibly a GLC 300, was in the area and witnessed the collision.
If you witnessed the collision, Investigators urge you to contact Anaheim PD Traffic Detective Summers at 714-765-1861 or rsummers@anaheim.net.