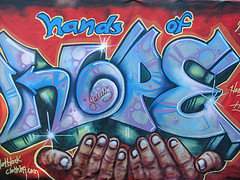 A Thanksgiving Outreach event for the needy is set for today, Saturday Nov. 17, from 12-3 pm at 4th Street Plaza (at 4th and N. French St.) in downtown Santa Ana.  Event sponsors include Hands of Hope, the City of Santa Ana, and various churches. 
Theywill give away $25 gift cards, shoes, and have carnival games and music. Volunteers are needed for crowd control, prayer partners, face painters, and help with the carnival booths.  If you would like to volunteer you may show up as early as 8 am.
Here are a few more volunteer opportunities today courtesy of Mariners Church:
Rojo Gomez Community Center Build Faith Adventure
Rojo Gomez Join us as we work with our partner church, Lo Mejor Del Trigo, to build a community center/church. No construction skills necessary! Over the three days you will have endless opportunities to meet new people, share experiences, and witness the love of Jesus in action. Professional construction workers whom attend Mariners Church have volunteered their time to lead the construction effort. We will be staying in the dorms of the El Niño church, which is secure and has running water. Tools and materials are provided. Registration fees cover travel cost and room and board. $75 Mariners Church: 5001 Newport Coast Dr. Irvine, CA 92603 Meet at 6am on Saturday and return on Sunday evening Please check in at the parking structure located on the south side of the campus. Transportation is provided so please leave your car on the top of the parking structure for the weekend. Things to bring: • Passport • Overnight Trips Only: change of clothes, sleeping bag, shower towel and toiletries • Tools… Saturday, November 17, 2012, 6:00 AM – Sunday, November 18, 2012, 8:00 PM. Rojo Gomez, Mexico. For more info visit integration.fellowshipone.com.
Feed the Homeless
MV Serve Opportunities Visit an area in Santa Ana where people experiencing homelessness are known to be and bless them with lunch and other treats. Sit down and enjoy lunch with them as a group. You'll be surprised by how willing they are to open up and tell their stories. You might even get an opportunity to share Christ and pray with them! Please make and bring 10 sandwiches per person. Brown bags are helpful. Feel free to also bring bottled water, chips, cookies, clean socks, coats, blankets, hygiene kits, backpacks, Bibles, pull-up diapers, trash bags…anything you can think of to distribute to the homeless. Meet in the Mariners Church Mission Viejo parking lot on bottom floor at 8:00 am. Questions, contact Randy at randyfrans@att.net or 949-463-8630. Saturday, November 17, 2012, 8:00 AM – 11:00 AM. 700 N Ross St. Santa Ana, CA 92701.
EVENT FULL: Thanksgiving Food Distribution
MV Serve Opportunities Distribute groceries to local families in need. Join us at Families Forward Food Distribution on Saturday 11/17, 8:30am- 12:30pm in Irvine. Questions? Contact badair@marinerschurch.org. Saturday, November 17, 2012, 8:30 AM – 12:30 PM. 9221 Irvine Blvd. Irvine, CA 92618.
Thanksgiving Meal for the Homeless at Lighthouse Church
Join us as we provide the homeless in the our community with a special church service featuring praise and worship, a message, a Thanksgiving meal, and lots of love! This event is family-friendly. A $25 contribution per adult will be charged via credit card upon registration. This fee is tax deductible and allows us to provide food, drinks and dessert for the over 300 meals we'll be serving to the homeless. As a special request during the holidays (optional for those interested) we are in need of sleeping bags and small warm blankets for our recipients. If you would like to participate, please bring them with you to the serve. This event can accommodate 25 people and will be closed when full. Questions? Contact Stephanie at stephaniechang9@yahoo.com, 714-349-3894 or David at dwhuie@gmail.com, 714.376.8241. PLEASE CLICK ON THE LINK BELOW TO REGISTER. Saturday, November 17, 2012, 2:00 PM – 5:00 PM. Lighthouse Church 1885 Anaheim Avenue Costa Mesa, CA 92627. For more info visit integration.fellowshipone.com.
Volunteer at Resource Center before/after Sat Service
resource center Help make the Resource Center a warm, caring place. Volunteers are needed before and after the weekend services to assist people as they drop off their donations. Sat before and after the services (4:30-5p and then again from 6:15-6:45p). To begin serving in the Resource Center, sign up for Orientation on a Tuesday morning. To sign-up for a shift, contact smunsey@marinerschurch.org Questions? Contact Steve at smunsey@marinerschurch.org or 949.769.8255. Saturday, November 17, 2012, 4:30 PM – 6:45 PM. 5001 Newport Coast Dr. Irvine California 92603-0164.