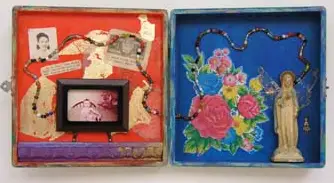 Dia de los Muertos workshops!
Shrines for Dia de los Muertos (10/24, 2:30-6PM): join local artist Chela Banuelos for this creative shirne class where you will incorporate a number of techniques to make a shrine or sacred place. Bring your own personal memorbilia to personalize your works. To view more on the workshop, register HERE.
The Breads of Day of the Dead (10/24, 11-1:30): join local baker Cory for this intimate class on preparing and decorating authentic bread of this holiday. Taste samples, learn basic bread techniques and take home recipes in this hands-on class. This class is limited to 6 students only so register NOW.
Truffles (10/24, 11-2): the role of chocolate is seen throughout Mexican culture. Learn to make delicious chocolate treats with Chocolatier Courtney of C-Salt Gourmet. This is a great class for future holiday gifts as well! Register HERE.
---
book sale 10/13-11/14
We need to make room for holiday items and new releases. Starting tomorrow, for the next month, we will be have deep discounts on all store titles. Every title in our shop will be 25-50% off!  We rarely have sales, so start your shopping early and take advantage of this!
*sales only apply to in-house purchases, not on-line*
---
other workshops in october!
We still have room for a few workshops in october-many of these classes will be the last time we offer them in 2010!
Cooking from the Hive (10/17, 11-1): Join the Backyard Bee ladies in a backyard honey hive tour with cooking demo using local honey.
Solar Cooking (10/17, noon-2): efficient and economical cooking using the sun!
Terrariums (10/30, 11-1): mini-gardens for your home or as a gift.
Foraged Foods 2 (10/30, 10-2): learn to make acorn bread and toppings straight from the wild. Identification, meals and recipes included!
Welding Basics (10/24, 10-3PM): basic welding techniques to help you manipulate metal!
view details of our october calendar on our website.
---
Noche de Altares: November 6th 2010
On Novemeber 6th, of the best celebrations of Dia de los Muertos in California will be taking place in Downtown Santa Ana, just a few blocks from our shop. Hosted by our good friends at Calacas and El Centro Cultural de Mexico, Noche de Altares is a beautiful showcase of culture, food, craft and shrines honoring loved ones lost. If you haven't been to this event, you are truly missing out on one special event in Orange County!  This event is free, for directions click HERE.