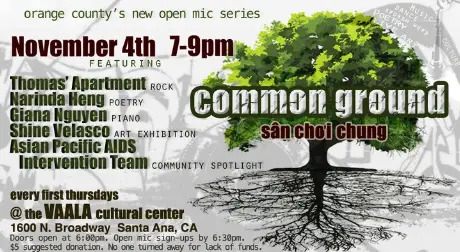 Common Ground is hosting their next Open Mic night on Thursday, November 4, from  7:00pm – 9:00pm, at the VAALA Cultural Center, located at 1600 North Broadway (closest cross-streets are Broadway & 17th Street), in Santa Ana.
Show up – speak out – invite others!  Doors open at 6:00pm.  Open Mic sign ups by 6:30pm.  If you would like to sign-up, please show up early.  The show starts at 7:00pm.
FEATURING:
Thomas' Apartment| alternative rock (http://www.thomasapartment.com/)
Narinda Heng| spoken word & poetry
Giana Nguyen| pianist/singer-songwriter (www.facebook.com/giananguyen)
Shine Velasco| art exhibition
Asian Pacific AIDS Intervention Team| community spotlight (http://www.apaitonline.org/)
Every first thursdays of every month @ the VAALA Cultural Center, at 1600 N. Broadway Santa Ana.  $5 donations suggestion. No one turned away for lack of funds.
Common ground/sân chơi chung: connecting communities through creative expressions. We are a collective of community members, artists, and activists committed to cultivating positive and safe space for artistic growth and community empowerment.