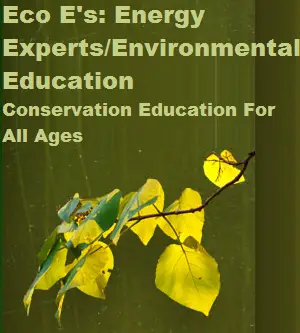 Press Release, For Immediate Release
Contact: Béa Tiritilli, 714-292-2899; info@eco-es.com
Béa Tomaselli Tiritilli left a long commute to her secure job at an inland public high school for a teaching job in Orange—just before the recession hit.
"After ten years at the same school, my career morphed into a series of short- term school contracts punctuated by layoffs and substitute teaching jobs," Tiritilli said. "I've been told there are 200 applicants for every one teaching position. Job prospects will probably improve in a year or two; but meanwhile, I miss having my own classroom."
So Tiritilli—who holds teaching credentials in English, health science, and biology—took matters into her own hands.
"I live next to Santa Ana's Santiago Park Nature Reserve," she said. "I grew up near here as well, I've been visiting this park since I was a kid, and I'm about as familiar with this reserve and its wildlife as I am with my own family. I was saddened when our local park naturalist and his staff became recession statistics.  But then I thought, here was this lovely new nature center being used as little more than office space; and I came up with a plan."
Tiritilli said she sends her young children to week-long, local day camps each summer to keep them from getting bored, enrich them with experiences they can't get at school, and "to give Mom and Dad a few uninterrupted hours of chores or errand time.
"I figured, here I am a biology teacher in need of a school, and there's a nature center in need of someone to run programs at it," she continued. "I approached City officials with a proposal to start ecology-themed nature camps at the site, and was delighted when they accepted!"
Tiritilli had worked in the conservation field before becoming a teacher, and she'll be running the camp as a branch of Eco E's, her new home-based business.
"The E's stand for Energy Experts/Environmental Education," she explained, pointing out that her website and conservation-tip blog—www.eco-es.com—goes into a more complete explanation of what she does.
"This camp should be a multi-win situation for everyone involved," said Tiritilli, emphasizing some of the benefits her green business brings to the local economy. "It costs the City nothing for me to run this camp, because all camp expenses will be paid via enrollment fees; in fact, the City has already made about $400 off my business-license charges.
Local campers will have an incredibly exciting, hands-on experience as they learn how to protect Santa Ana's riparian ecosystem. And not only am I creating a phenomenal summer teaching job for myself, but I'll be hiring at least one co-teacher to help with the program; and I'm keeping local shopkeepers happy with all my camp-supply purchases."
Parents who want more information about the camp can contact Tiritilli at: 714-292-2899; info@eco-es.com; or they may download the City's Leisure Class Brochure here.
#30#
Presented by Béa Tiritilli (Eco E's Founder) and Jorge Vera
Students in this camp will learn the fundamentals of ecology as they explore habitat of the Santiago Park Nature Reserve on the Santa Ana-Orange border. This reserve hosts a diverse ecosystem which includes native plants, riparian woodlands, a natural creek, and all sorts of wildlife, including squirrels, rabbits, raccoons, owls, songbirds and more! The lead instructor is an experienced, credentialed science teacher and wilderness guide. Student-teacher ratio will be no more than 10:1.
Topics covered will include: introduction to the local native ecosystem; basic scientific and ecological principles; examination of microscopic organisms in the park and its creek; conservation importance (energy, water, resources); and reasons and ways to avoid pollution while protecting wildlife. Learning will also include nature-themed games and crafts. Students will hike up to three miles per day during their explorations, so weather-appropriate clothing, sunscreen, and sturdy shoes are essential.
Cost: $90 per student per week