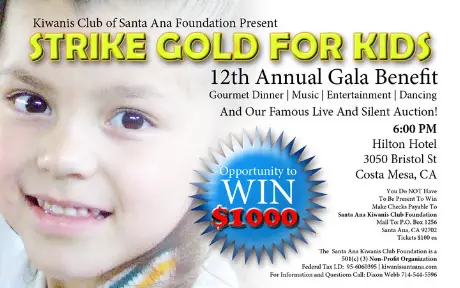 Please join us in supporting the Santa Ana Kiwanis Foundation's 12th annual fundraising live and silent auction that helps make a difference in the lives of children in our community, by supplying an auction item for this fun-filled annual event. The STRIKE GOLD FOR KIDS GALA dinner and auction is being held on Saturday, August 14, 2010, at 6:00 p.m. at the delightful Hilton Hotel in Costa Mesa. This Gala is Kiwanis of Santa Ana's main way of raising funds for the support of our many community service projects, including:
Providing approximately $45,000.00 annually for college scholarships.
Improving the Children's Barrier Free Park and Sports Court for the Handicapped
Assisting handicapped children at Bowling Tournaments
Helping at the Carl Harvey School Carnival, Christmas Tree Decorating, and other special events.
Helping to establish "Reading Corners" in neighborhood apartment and housing complexes.
Purchasing and furnishing children's books for the lending libraries in Reading Corners.
Helping to staff seasonal Salvation Army Kettles.
Packing food and diapers for Martin Luther King Day.
Christmas shopping with impoverished children.
Collecting and distributing Christmas gifts to handicapped children
Providing warm clothing and blankets for needy
Assisting at the WISE PLACE for homeless women and girls
We look forward to your help ensuring another successful event. All donors' names will be prominently displayed at the fundraiser, and remember that DONATIONS ARE DEDUCTIBLE TO THE EXTENT PERMITTED BY LAW. Please mail or UPS your item together with the enclosed donor form to the address below . . . or let us know If you would like an item picked up at your home or place of business.
Thank you for your consideration and help in supporting this worthy event.  Click here to RSVP on Facebook.
The Santa Ana Kiwanis Club Foundation is a 501(c) (3) Non-Profit Organization
Federal Tax I.D: 95-6060395
Website: www.kiwanissantaana.com
For Information and Questions Call: Dixon Webb 714-544-5596
Location Hilton Hotel, at 3050 Bristol St. in Costa Mesa, CA
You Do NOT Have To Be Present To Win
Make Checks Payable To:
Santa Ana Kiwanis Club Foundation
Mail To: P.O. Box 1256
Santa Ana, CA 92702
Tickets $100 ea.