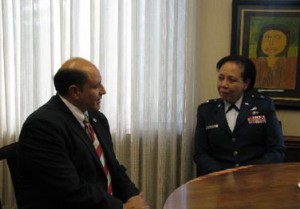 PHOTO FROM FILE: State Senator Lou Correa (left) and California National Guard Adjunct General, Brig. Gen. Mary J. Kight (right), at Senator Correa's Capitol Office during discussions related to Senate Bill 1075.
For Immediate Release: May 25, 2010
Contact: Lina Hamilton (916) 651-4034
Senate Approves Correa Bill to Aid College Students Serving in California National Guard
SACRAMENTO, CA – The California State Senate unanimously approved Senate Bill 1075 (SB 1075) authored by Senator Lou Correa (Orange County). This measure will require academic institutions to reasonably accommodate and assist students who are called to active military duty so they can meet any and all coursework requirements missed due to military service.
"SB 1075 will make sure that California National Guard members will not be academically or financially penalized when they are ordered to perform emergency state active duty," said Senator Lou Correa. Continue reading→