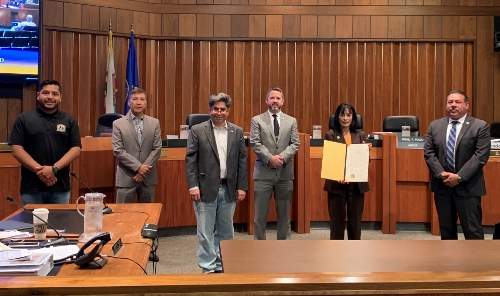 The Santa Ana City Council has issued a Proclamation recognizing "Santa Ana solidarity with those who protest peacefully against systemic injustice."
Mayor Pro Tem Juan Villegas and Councilmember Nelida Mendoza presented the Proclamation on Tuesday at the Council's regular meeting.
The Proclamation reads, in part, "the City of Santa Ana stands with the Black community, with all people of color, and with all those who have been marginalized and disenfranchised as a result of systemic injustice."
It also states that "the Santa Ana City Council supports individuals' right to the freedom of expression, including engaging in peaceful protests that raise awareness of injustices and promote social justice," but it "does not support acts of violence such as looting and riots that may be carried out by individuals who are not affiliated with a peaceful protest, inciting or producing imminent lawless action."
El Concejo Municipal Proclama Solidaridad con los Manifestantes
El Concejo Municipal de Santa Ana ha firmado una Proclamación que reconoce "la solidaridad de Santa Ana con quienes protestan pacíficamente contra la injusticia sistémica".
El vice alcalde, Juan Villegas, y la concejal Nelida Mendoza presentaron la proclamación el martes en la reunión ordinaria del Concejo. Los siete miembros del Concejo Municipal lo firmaron.
La Proclamación dice, en parte, "la Ciudad de Santa Ana está con la comunidad negra, con todas las personas de color y con todos aquellos que han sido marginados y privados de sus derechos como resultado de la injusticia sistémica".
También establece que "el Concejo Municipal de Santa Ana apoya el derecho de las personas a la libertad de expresión, incluyendo la participación en protestas pacíficas que crean conciencia sobre las injusticias y promueven la justicia social", pero que "no apoya los actos de violencia como el saqueo y disturbios que pueden ser llevados a cabo por individuos que no están afiliados a una protesta pacífica, incitando o produciendo una acción ilegal inminente".