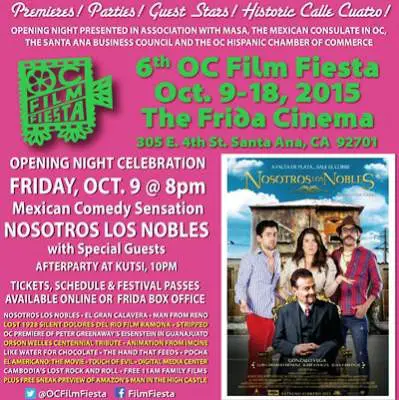 Community Alert: Celebrate Hispanic Heritage Month with Film! Win Free Tickets!
6th OC Film Fiesta Opening Night Celebration Fri., Oct. 9 @ The Frida Cinema
Watch Hit Mexican Comedy Nosotros Los Nobles Followed by Afterparty at Kutsi Cocina
Media Arts Santa Ana invites you to join us for the Opening Night Celebration for the 6th OC Film Fiesta this Friday, Oct. 9 at 8 p.m. at the Frida Cinema on Santa Ana's historic Calle Cuatro.
The evening features a screening of the Mexican comedy sensation Nosotros los Nobles, in which wealthy empresario Germán Noble (Gonzalo Vega) teaches his three spoiled children (Luis Gerardo Mendez, Juan Pablo Gil and Karla Souza), a lesson about life and the meaning of hard work by telling them the family fortune has disappeared and they need to get jobs! Continue reading→