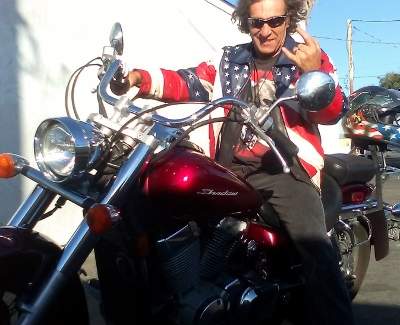 A Santa Ana resident, David Mark Terman, 59, died in a head-on motorcycle collision on Sunday, according to the O.C. Register.
Terman was on a motorcycle with Edith Mae Hegy, 62, of Elko, Nevada. They both died in the crash.
The Register reported that a Harley-Davidson, with a rider and a passenger, were traveling north about a quarter-mile south of Hicks Haul Road, northwest of Silverado Canyon and south of Irvine Lake and tried to pass a vehicle, according to the California Highway Patrol said: It went into opposing traffic and slammed into a second motorcycle, a Honda, with two people aboard.
Terman is pictured on an older Facebook page on a Honda motorcycle.
The others that were killed in the crash were Regina Michelle Crowder, 48, of Fountain Valley and Jon Michael Schwarz, 50, of Tustin. Each motorcycle involved in the collision was carrying a man and a woman.
Terman's current Facebook page noted that he was "getting into carpentry work instead of plumbing." He was a Missionary at The Church of Jesus Christ of Latter-day Saints. He was originally from Indianapolis, Indiana.