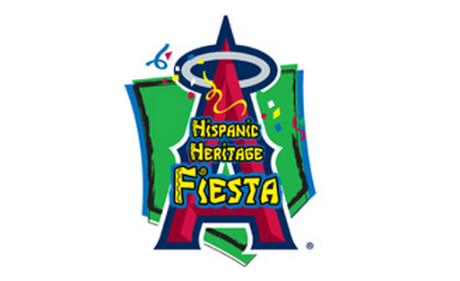 Hey Fans! Hispanic Heritage Fiesta occurs on Saturday, September 25th from 12pm to 4pm in the Angel Stadium parking lot.
Activities for the whole family include carnival-style attractions, live Latin entertainment and a variety of food to choose from. Scheduled to appear are select members of the Angels expanded roster, Angels coaches, broadcasters and the Strike Force.
Upon entry all fans with a Hispanic Heritage Fiesta Ticket will receive an Angels game ticket voucher to redeem at the Angels ticket office window for a ticket to that night's game, or any future 2010 regular season game. Game tickets based on availability at the time of redemption.
Hispanic Heritage Fiesta 2010 presented by Coors Light and co-presented by Kaiser Permanente, Chevrolet and 1330 ESPN Deportes.
Click here to read about 8th Continent Soymilk, which will be participating in the event.
Pick up your FREE TICKETS at an Orange County Northgate Market Today!
What: Hispanic Heritage Fiesta is a one day celebration of Hispanic Heritage involving Angels players, Angels partners, entertainment & Angels fans!
When: Saturday, September 25, 2010 – 12:00pm-4:00pm – Free Admission, Parking Free until 3:00
Where: Angel Stadium Parking Lot
Who: Presented by Angels Baseball, Coors Light, Kaiser Permanente, Chevrolet & 1330 AM ESPN Deportes
Orange County Northgate Market Locations:
722 N. Anaheim Blvd.
Anaheim, CA 92805
Phone: (714) 774-1178
1150 N. East St.
Anaheim, CA 92805
Phone: (714) 956-7890
720 W. La Palma Ave.
Anaheim, CA 92801
Phone: (714) 563-0721
6991 Lincoln Ave.
Buena Park, CA 90620
Phone: (714) 252-8022
929 S. Euclid St.
Anaheim, CA 92802
Phone: (714) 991-1950
580 W. La Habra Blvd.
La Habra, CA 90631
Phone: (562) 691-8032
1623 W. 17TH St.
Santa Ana, Ca 92706
Phone: (714) 479-0125
409 E. 4TH St.
Santa Ana, CA 92701
Phone: (714) 647-9310
230 N. Harbor Blvd.
Santa Ana, CA 92703
Phone: (714) 265-9394
1120 S. Bristol
Santa Ana, Ca 92704
Phone: (714) 957-2529
1010 S. Main St.
Santa Ana, Ca 92701
Phone: (714) 542-3322
770 S. Habor Blvd.
Santa Ana, CA 92703
Phone: (714) 775-5555