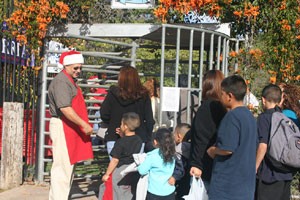 State Senator Lou Correa greets local residents at his Santa Ana Zoo event
State Senator Lou Correa will be hosting his 9th Annual Santa Ana Zoo event this Sunday, Dec. 6, from 10 am to 2 pm.
Correa is offering free admission to the Zoo, and free food too!
Correa and his staff will be collecting canned food and unwrapped toys for needy families.
The Santa Ana Zoo is located at Prentice Park, at 1801 E. Chestnut Ave., in Santa Ana, nearby First St. and the 5 Freeway.  Click here to get directions and to see a map to the zoo, or see the graphic below. Continue reading→