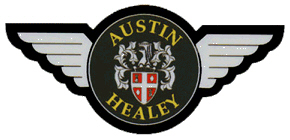 Press Release, for Immediate Release
SUNDAY, JUNE 5, 2011
RARE CLASSIC COLLECTOR CARS ON DISPLAY
Lyon Air Museum, a premier Southern California showcase for vintage military aircraft and automobiles, will host classic Austin-Healey British sports cars as part of a "Cars & Cockpits" event scheduled for Sun., June 5, 2011, from 10:00-11:30 a.m. at the facility, located on the west side of the runway at John Wayne Airport in Orange County. (NOTE: Weather permitting).
The cars are owned by members of the Austin-Healey Association of Southern California (AHASC), which first formed in 1974. Members will bring their automobiles from Los Angeles, San Bernardino, Riverside and Orange Counties. On display will be the Austin-Healey models Sprite, 100 and 3000.
"This special event presents Museum visitors with an exceptional opportunity to view some of the rarest of Austin-Healey sports cars in pristine condition," said Mark Foster, president of Lyon Air Museum.
"Austin-Healey produced some of the world's finest cars," said George McHarris, AHASC past-president. "Anyone who comes to the Museum on Sunday will be able to get that incredible Austin-Healey experience firsthand."
The Austin-Healey Sprite is a small open sports car originally intended to be a low-cost model. It quickly became affectionately known as the "Frogeye" in the UK and the "Bugeye" in the U.S. because its headlights are prominently and distinctively mounted on top of the hood.
The first Austin-Healey 100s (series BN1 and BN2) were four-cylinder cars. The final "100″ models, 1956′s "BN4″ (2+2 seats) and 1958′s "BN6″ (two seats) were six-cylinder cars. The "100″ name comes from company founder Donald Healey, who selected the name due to the car's ability to reach 100 mph (160 km/h).
The original Austin-Healey 3000 was built from March 1959 to March 1961 and has model designation BT7 MkI (four-seat version) and BN7 MkI (two-seater). The car is named for its 3000cc engine.
The Austin-Healey marque was established through a joint-venture arrangement set up in 1952 between Leonard Lord of the Austin division of the British Motor Corporation (BMC) and the Donald Healey Motor Company, a renowned automotive engineering and design firm. Austin-Healey cars were produced until 1972 when the 20-year agreement between Healey and Austin came to an end. Donald Healey left the company in 1968 when British Motor Holdings (BMC had merged with Jaguar Cars in 1966 to form BMH) was merged into British Leyland.
The 30,000-sq.ft. Lyon Air Museum opened in Dec. 2009. The facility represents the fulfillment of a dream of Maj. Gen. William Lyon, USAF (Ret), who held the position of Chief of the U.S. Air Force Reserve from 1975 to 1979. Currently, Gen. Lyon is Chairman of the Board and CEO of William Lyon Homes, Inc., Newport Beach, Calif. His passion for aviation history and youth education is the driving force behind Lyon Air Museum. In establishing the Museum, Gen. Lyon sought to create a world-class facility that would be available to the local community and would offer educational exhibits designed to inspire young people. The Museum has on exhibit some of the world's rarest operational aircraft and vehicles.
Lyon Air Museum is located at 19300 Ike Jones Road, Santa Ana, CA 92707. P: 714/210-4585. F: 714/210-4588. Email: info@lyonairmuseum.org
Hours of operation are daily from 10 a.m. to 4 p.m. Admission rates: General admission–$8; Seniors and Veterans–$6; Ages 5-17–$4; Under age 5—Free. Groups of 10 or more–$1 off each visitor. Pre-arranged school groups—Free.
Media Contact: Ned Madden
Rodheim Marketing Group
949/547-0143