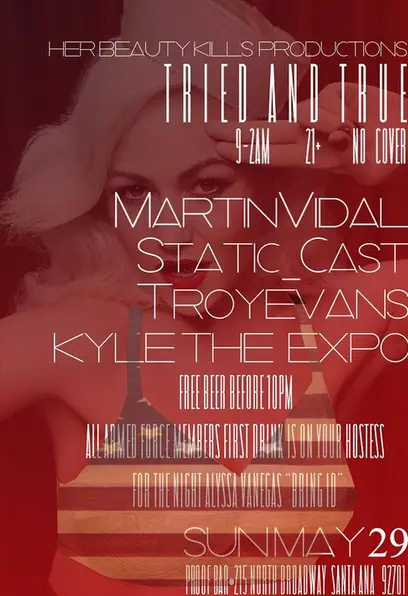 Proof Bar proudly presents "TRIED AND TRUE" an event premier in honor of those who served our RED WHITE AND BLUE! A celebration brought to you by HER BEAUTY KILLS PRODUCTIONS!
The night will be filled with hip shaking sounds of an array of music and drink specials you won't want to miss out on!
Join Proof for this monumental dance party:
MARTIN VIDAL, Spinning an original set for your listening pleasure!, http://soundcloud.com/martinvidal
LA / Social Soirée
TROY EVANS, www.soundcloud.com/troyevans
LA/California Digital Ent., Dirty house/ Electro
Live Performance by STATIC_CAST
LA/Music Playground
Hip Hop/Electro/Dubstep
KYLE THE EXPO, http://soundcloud.com/daytime-crime
OC/Daytime Crime
Electro/House
AND….FREE giveaways from: SKYHI CLOTHING
In honor of this memorable weekend your hostess for the evening ALYSSA VANEGAS would like to offer you…
FREE BEER FOR THE FIRST 50 PEOPLE BEFORE 10PM
FIRST DRINK IS FREE FOR ALL ARMED FORCE MEMBERS
How can you say no to this amazing event?
You can't!
"TRIED AND TRUE"
PROOF BAR
May 29th
9pm-2am
21+
215 N. Broadway, Santa Ana, CA